Sofia Angela Paja, a BS Hospitality Management major in Culinary Entrepreneurship student of the College of Tourism and Hospitality Management, bagged the Championship in the Modern Filipino Dessert category of the 15th Philippine Food Expo, held from April 28-30, 2023 at the SMX Convention Center Manila. Paja partnered with Chef Maria Karmel Grace Labay.
The tandem presented the following award-winning entries:
Mango-Brazo Bicho-Bicho (Bicho-Bicho filled with Mango-Barzo Custard, Mango-Rum Compote, Dragon Fruit Coulis, and Fresh Fruit Salad in Pandan Syrup);
Stuffed Mango-Bugnay Palitaw (Palitaw stuffed with Kesong Puti and Latik served in a Mango-Coconut Soup; and
Mango-Tibok Souffle (Souffle of Mango Tibok-Tibok served with Pastillas Sauce and Fruit Salsa)
Chef Reinald Andaya coached them with their consultant, Chef Kristian Kristoffer Roque.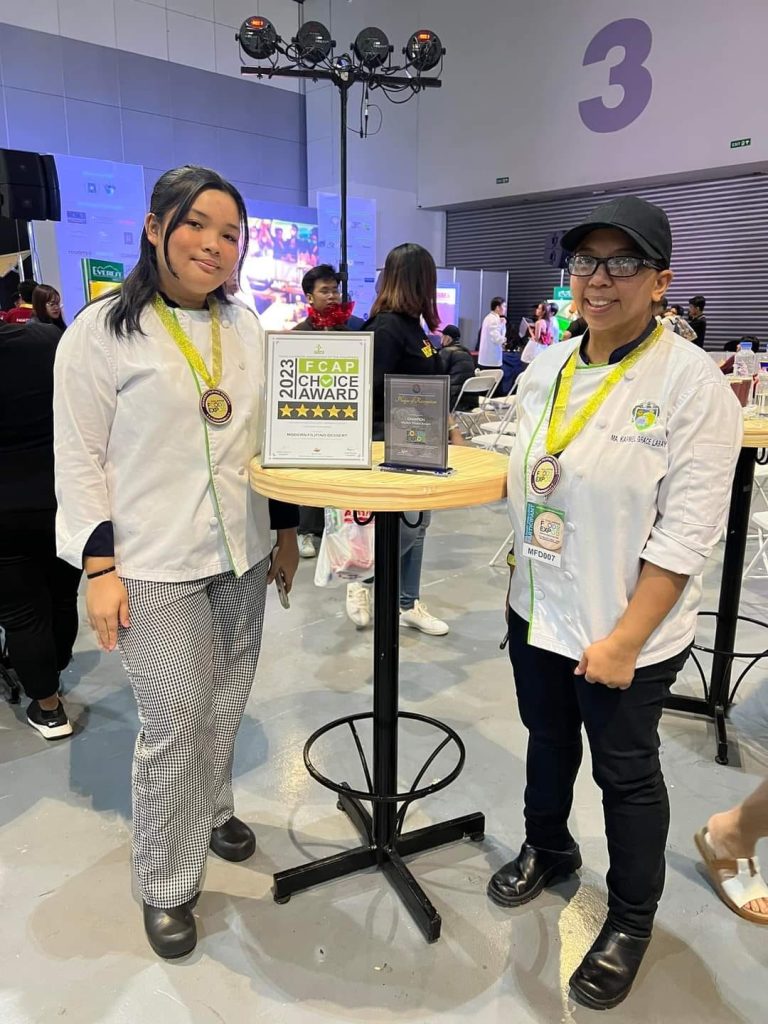 Aside from them, the following also joined the competition:
Mystery Ingredient Category – Mr. Daniel Dalipe from 2HCE2 and Chef Elijah Coronado
Healthy Pasta Category – Mr. Marc Rensus Espinosa from 3HCE1 and Chef Dos Bustillos
The 15th Philippine Food Expo is organized by the Philippine Food Processors and Exporters Organization, Inc. (PHILFOODEX) and CUT Unlimited, Inc. The event is "indisputably the most comprehensive and recognized Only All-Filipino Food Show in the country." Apart from food exposition, it also contributed to exemplifying the culinary skills of students and professionals through their competition. Various categories were offered, such as Food Styling and Photography, Healthy Pasta, Kitchen Master, Modern Filipino Dessert, Mystery Ingredient, and Table Setting.