College of Rehabilitation Sciences faculty members and officials held the first series of its cascade sessions of best practices on internationalization, as part of the fulfillment of its projects under the Commission on Higher Education (CHED) Institutional Development and Innovation Grant (IDIG) on Internationalization.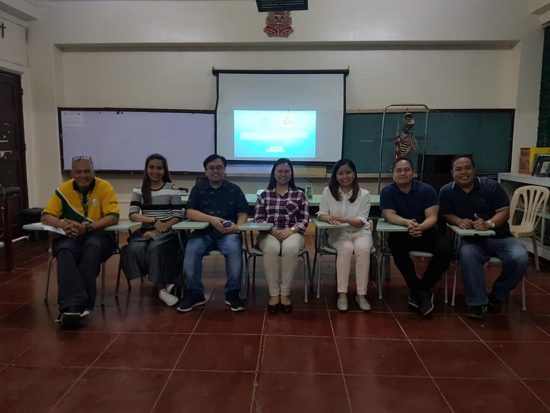 CRS has had sustained internationalization efforts for all its four degree programs–BS Physical Therapy, BS Occupational Therapy (accredited by the World Federation of Occupational Therapy), BS Speech-Language Pathology, and BS Sports Science. Student exchanges (both inbound and outbound) are complemented with faculty members receiving degrees and training abroad. The College likewise receives foreign guests from academic institutions for benchmarking and exploration of possible bilateral ties.
The first session took place on October 5, 2019 at Remedios T. Romualdez Memorial Foundation in Tacloban, Leyte. The officials who participated were Vice-Rector for Academic Affairs Cheryl R. Peralta, DrPH, Dean Anne Marie C. Aseron, MSPT, and they were joined by faculty members Mr. Ivan Neil B. Gomez, PhD, OTRP, Ms. Zyra Mae V. Sicat, MOH, Ms. Catherine Escuadra, MHPEd, Asst. Prof. Christian Rey Rimando, MSPT, and Mr. Mark Angel B. Serra, MOH.
Two sessions were conducted simultaneously on October 13, 2019. The first session saw Dean Aseron, along with faculty members Escuadra, Rimando, and Serra, share CRS' best practices on Internationalization to 14 faculty members of San Pedro College, Davao. Meanwhile, Vice-Rector for Academic Affairs Peralta, Assoc. Prof Donald S. Lipardo, PTRP, PhD, and Sicat held the cascading session with Universidad de Sta. Isabel (USI) faculty members, who were led by USI Rehabilitation Sciences Department Chair Sue Romero, MSPT, also a Thomasian alumna.