Various research studies particularly on rice and rice production and ecological sustainable management were the primary topics discussed during the 18th Philippine Society on the Study of Nature (PSSN) Annual International Conference on Nature Studies and Innovation for the Environment 2018 (ICoNSIE 2018) held recently at the Thomas Aquinas Research Complex of the University of Santo Tomas.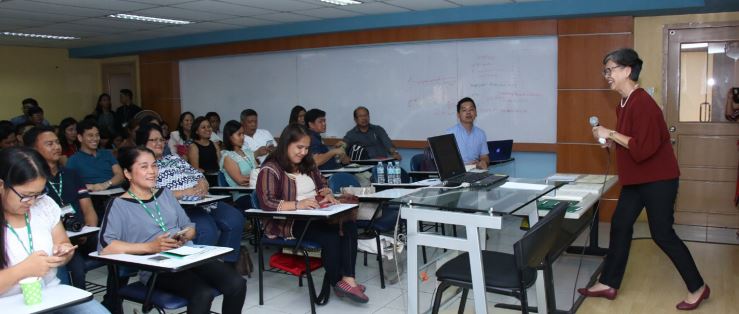 The conference was attended by local and international researchers, students, and professors. On the first day of the conference, the speakers included Dr. Bas Bouman from the International Rice Research Institute in the Philippines as the Keynote Speaker, Dr. Surangsri Wapet of Thailand's Department of Agriculture Extension and Dr. Gopalasamy Reuben
Clements of Sunway University in Malaysia as Plenary Speakers.
Dr. Bas Bouman gave emphasis on the importance of rice production
in the Philippines while Dr. Surangsi Wapet discussed the efforts of
Thailand when it comes to sustaining the agricultural sector of the country.
Dr. Wapet also stated that Thailand and the Philippines have similar situations when it comes to agriculture and the Philippines may be able to improve on its agricultural sector by using the methods done by Thailand.

The ribbon-cutting ceremony for the Poster Exhibit was held at the
Faculty of Arts and Letters officially opened by the Dean Prof. Michael
Anthony C Vasco, Ph.D., the PSSN President Prof. Arlen A. Ancheta, Ph.D.,
and the Director of the Research Center for Social Sciences and Education Prof. Belinda De Castro, Ph.D. Research posters were presented by the students under the Asian Studies program of the Faculty of Arts and Letters on topics anchored on environmental problems in the Philippines, such as the Angat Dam and Watershed, Beach Tourism in Pagudpud, Changing Weather Patterns In Rice Production: A Case Study of Barangay Marawa Jaen, Nueva Ecija, and also Economic Vulnerabilities of Women in Tañong Fish port.
The research posters presented were on "Institutional Arrangement in
the Management of Angat Watershed and Dam" by Crystalle Adriano and
Zarina Balatbat, "Collaborative Management of Beach Tourism:
Pagudpud As Case Study" by Ma.Felixie Claire P. Falcasantos, Arian Gail
R. Martin and Danica R. Simbahan, "Economic Vulnerabilities of Women in
Tañong Fish port" by Leona Marie B.Buendia, Jayanil Charis H. Enriquez,
and Judea Raven M. Mendoza and "Rice Production In Changing Weather Patterns: A Case Study of Barangay Marawa, Jaen, Nueva Ecija" by Beatriz
Issah C. Manzala and Myla Nicole M. Nayve.

Some of the research studies presented during the Parallel Sessions
consisted of studies on the Ecological Sustainable Management of Invasive
Alien Species in Rice Ecosystems, Plant Diversity Assessment in Laguna, Water Hyacinth as a Source of Livelihood of Women in the Villar SIPAG Foundation by Ana Carmela Castro and Ma. Cassandra Lopez, and Experiences of Codependency in the Families of Residents of Healing Path Foundation by Jo Leah Asinas and Ron Airah Carado.