The Theology Cluster of the University of Santo Tomas Graduate School and the Institute of Religion virtually held the 6th Archbishop Leonardo Z. Legaspi, O.P., D.D. Lecture from October 28 to 29, 2021.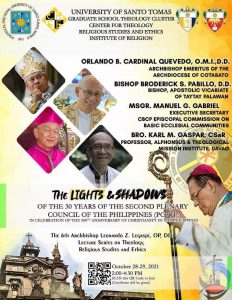 With the title "The Lights and Shadows of the 30 Years of the Second Plenary Council of the Philippines (PCP II): In Celebration of the 500th Anniversary of Christianity in the Philippines," the event honored the first Filipino Rectorof UST, who was the Father of PCP II.
His Eminence Orlando Cardinal Quevedo, O.M.I., D.D., Archbishop Emeritus of Cotabato, opened the first day with a keynote address on "Archbishop Legaspi and The Enduring Challenges and Relevance of PCP II."
St. Alphonsus Theological and Mission Institute Professor Br. Karl Gaspar, CSsR, in Davao City, tackled the "Challenges and Promises for the Church's Dialogue with Muslim and Indigenous Communities," followed by a session on the "Dialogue of Life and Faith."
The Second Day focused on the "Basic Ecclesial Communities (BEC) Challenges and Promises for Renewal of the Church" delivered by Rev. Msgr. Manuel Gabriel, Executive Secretary of the CBCP Commission of Basic Ecclesial Community. The lecture was concluded with a session on the "Church of the Poor: Challenges and Promises of the Renewal of the Church of the Poor," which was discussed by His Excellency Bishop Broderick Pabillo, D.D., Bishop of the Apostolic Vicariate of Taytay.