The Commission on Higher Education (CHED) awarded the University of Santo Tomas for its two consecutive years (2021 and 2022) of exemplary and commendable performance in the recognized international rankings and ratings such as: QS World University Rankings, QS Asia University Rankings, QS Stars Rating (2021), and Times Higher Education Impact Rankings. The recognition was given during the 2022 ASEAN ICONS (ASEAN Philippine Higher Education Internationalization Champions of Nation-building and Sustainability) Awards Night held on August 26, 2022 (Friday) at the Hilton Manila, Newport Blvd., Pasay City.
UST Deputy Director of the Office of QS/THE Rankings, Engr. Nestor R. Ong, MSIE, PIE, ASEAN Eng received the trophy and the certificate of commendation for years 2021 and 2022 on behalf of the University. UST was also represented by QS/THE Rankings Office Assistant Mr. Vien Vic G. Flores, MS, AFP.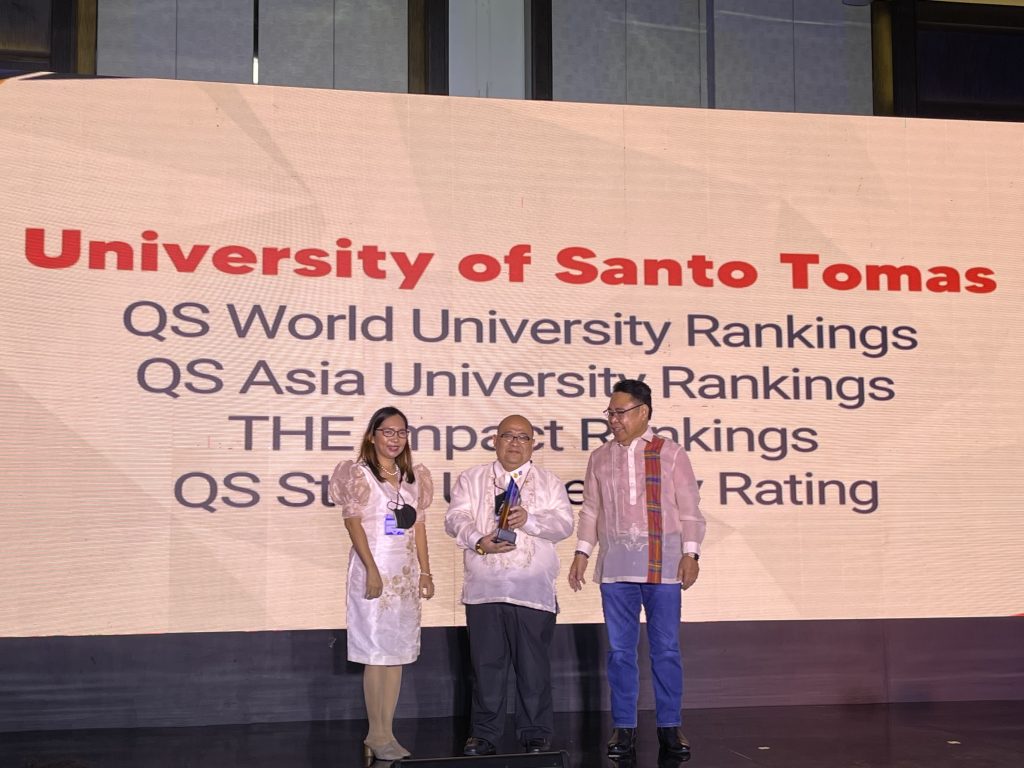 As the country's first QS Four Stars University (2015 and 2017) and Five Stars University (2021), UST set a benchmark international rating among Philippine higher education institutions, several of whom have sought to know UST's best practices in rankings and ratings. UST is also ranked in the QS World University Ranking by Subject (#301-320) and QS Graduate Employability Ranking (#251-300). Meanwhile, UST consistently ranked high in the country rankings of Times Higher Education's Impact Rankings, emphasizing UST's contributions to the attainment of the Sustainable Development Goals.
As a highlight of CHED's ASEAN celebration, ASEAN ICONS recognizes exemplary HEIs that have championed the global reputation of Philippine higher education through their commendable performance in internationally recognized rankings and ratings, striving to promote the internationalization of Philippine Higher Education Institutions (HEIs), and innovative initiatives to contribute to the country's economic and social goals.
In his welcome address, CHED Chairperson J. Prospero E. De Vera III emphasized the importance of cooperation, not competition, among Philippine Institutions of Higher Education in promoting internationalization by sharing their best practices in achieving their milestones and trailblazing initiatives and efforts to advance internationalization of HEIs, and innovative initiatives to contribute to the country's economic and societal goals and not to compete with each other whose universities are better. De Vera said, "All of you here are beacon of progress, innovation, and development. Together, let us ensure that internationalization fulfills its role as a driver of quality, relevant, and sustainable trailblazing opportunities for institutions, agencies, and other stakeholders that will transform the country into a knowledge-based society." As a champion of internationalization and a leader in elevating the global reputation of Philippine higher education institutions, the Commission awarded UST and other HEIs in the Philippine in recognition of their institution's efforts and commitment to continuously advance the Philippine higher education by participating in recognized international league tables such as Quacquarelli Symonds (QS), Times Higher Education (THE), and World's Universities with Real Impact (WURI).