Manila City Mayor Francisco "Isko Moreno" Domagoso, accompanied by Vice Mayor and UST alumna Honey Lacuña, and representatives from the Commission on Higher Education (CHED), the Department of Health (DOH) and Inter-Agency Task Force on Emerging Infectious Diseases (IATF-EID), visited UST on February 26, 2021, to look at the retrofitted classrooms, and for a discussion on how in-person classes would be conducted.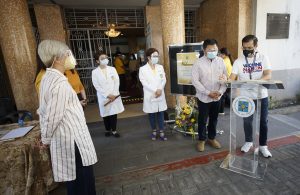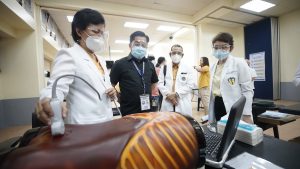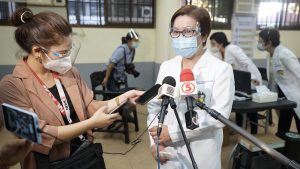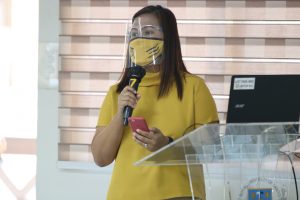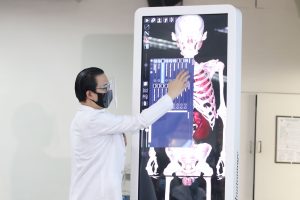 Amid stringent safety and disinfection protocols to combat the ongoing pandemic, UST intended to start in-person instruction for its medical and health allied programs in March, but opted to temporarily postpone it in light of another surge in Metro Manila. Of the 480 fourth-year Medicine students, 94 percent have chosen to learn on campus, said UST Vice-Rector for Academic Affairs Prof. Cheryl Peralta, DrPH.
"They really recognize that face-to-face encounters with patients are very important in this profession," said Peralta, who has a doctorate in Public Health, major in Epidemiology.
 To comply with distancing protocols and other strict safety measures, less than 30 students will have activities per building.  They will be spread out among the UST Hospital, St. Raymund de Peñafort Building, the San Martin de Porres Building, among other areas. Students and teachers who have opted to join in-person classes have already begun the 14-day mandatory quarantine period by the time of the inspection.
"With courage and commitment, we are determined to make this return [to in-person learning activities] safe and successful by making sure we strike that cautious and deliberate balance between two gargantuan tasks: safety for all and quality medical education," said UST Faculty of Medicine and Surgery Dean Dr. Ma. Lourdes D. Maglinao.
The Manila City Government's initial nod was given last February 3 after UST officials met with the Mayor at the Manila City Hall. During the visit on February 26, the Mayor reaffirmed his approval, saying "I trust UST. I hope you will not fail me because you are the first in the country to apply, the first to be approved by the local government [to hold limited in-person classes]."
"This is now our window of opportunity to show the excellence of UST's Faculty of Medicine [and Surgery]," the Mayor added.
CHED-NCR Education Supervisor Victor Castelo said that UST is ready and that "Based on the documents submitted to the Commission on Higher Education, sila po naman po ay compliant, so ang ginagawa po namin ay validation, evaluation."
Though UST-FMS was deemed ready in late February, it indefinitely suspended internships and clerkship rotations following a surge in COVID-19 cases in early March. Clerkships were originally scheduled to resume on March 8, 2021.
The UST Faculty of Medicine and Surgery is the oldest medical school in the country. It is known for producing topnotchers in the physician licensure exams. By the time it celebrates its 150th foundation anniversary on May 28, 2021, it will have produced over 40,000 medical doctors.