In line with its mission to celebrate and promote Philippine literature and writers, the UST Center for Creative Writing and Literary Studies (CCWLS) continues to produce its popular podcast 'USTinig' that debuted at the height of the pandemic.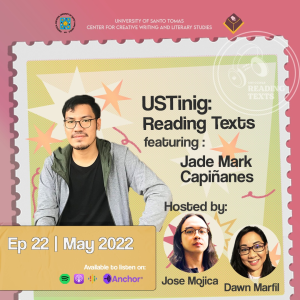 The first episode of the Center's official podcast was aired in August 2020 and featured Edgar Calabia Samar, who discussed his novel Teorya ng Unang Panahon.
Among the show's other guests have been playwright Rody Vera, scriptwriter Ricky Lee, poet and TV personality Lourd de Veyra, poet and novelist Mookie Katigbak-Lacuesta, historian and writer Ambeth Ocampo, fictionist Eliza Victoria, and actor Mae Paner.
CCWLS Director Professor Emeritus Cristina Pantoja Hidalgo, Ph.D., is proud of what the 'USTinig' team has achieved in terms of the quality of its content. "It is several notches above much stuff that is on the 'Net," she said. "Its content is original and engaging, and the team has tried to give it popular appeal."
Feedspot.com, in its May 29, 2022 ranking of best writing podcasts, places 'USTinig' at #13 among "thousands of podcasts on the web ranked by traffic, social media followers, domain authority, and freshness." Metroscenemag.com last year included the show among its choice of five local podcasts on literature.
Show format, hit episodes
'USTinig,' hosted by creative writing instructor Mr. Jose Mojica, has two types of episodes: 'RTs' or Reading Texts, which features a creative work such as a book, play, or movie, and the author reading an excerpt; and 'DMs' or Discussion Matters, which is a conversation with a writer about their work, writing process, and other topics related to creative writing.
In 2021, a lively and engaging segment hosted by Asst. Prof. Dawn Marfil-Burris was added to the show. The other segments are the "USTinig Questionnaire," patterned after Vanity Fair's Proust Questionnaire, and "Save, Edit, and Delete," where the guest is asked their opinion about a popular cultural product or phenomenon and asked whether they will save (the best), edit ("puwede na"), or delete (below par).
Among the 'USTinig' episodes that were the most popular with online audiences was Episode 20 that aired in March 2022, an RT featuring Jhoanna Lynn Cruz, who penned the memoir Abi Nako or So I Thought, an important contribution to Philippine queer literature.
Podcast team members are UST homegrown talents
The 'USTinig' team comprises Mr. Jose Mojica (host and technical team head), Asst. Prof. Dawn Marfil-Burris (segment host & producer), Asst. Prof. Paul Castillo (producer), and Assoc. Prof. Chuckberry Pascual, Ph.D. (producer).
Assisting them are the technical team members who create posters, audio trailers, video trailers, and edit the entire episode. For the premiere episode, these were UST Department of Literature faculty members Kimberly Nicole Panis and Francis Rae Quilanting.
For the succeeding episodes, the tech team was composed of UST Communication Arts majors, who do the work as part of their on-the-job training. The current tech team members are Korina Dela Cruz, Thea Flores, Ry Philip Jaco Galvan, Maxine Joaquin, Patricia Logina, and Joshua Miguel Rivero.
The show's name comes from a spoken word album released by the UST Creative Writing Center under Prof. Ophelia Dimalanta, which features herself and UST faculty and alumni Vim Nadera, F. Sionil Jose, Cirilo Bautista, Lourd de Veyra, Ramil Gulle, Michael Coroza, J. Neil Garcia, Nerisa del Carmen Guevara, and Lito Zulueta.
Catch 'USTinig' on Spotify, Anchor, Google, and Apple podcasts:
https://spoti.fi/37QKuAh
https://apple.co/33L5Dd7
https://bit.ly/2JNeRye