Dunong Tomas, one of UST SIMBAHAYAN Community Development's four university-wide advocacy clusters, focused on voter education this year through the Boto Filipino webinars. Beginning in November 2021 and ending in May 2022, it extended its efforts to engage with partner communities of the various academic units.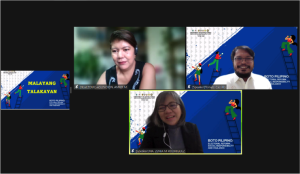 Former AB Community Development Coordinator, Asst. Prof. Ronald Castillo, and current AB Faculty Secretary, Asst. Prof. Ma. Zenia Rodriguez, were the speakers at the opening and closing webinars of Dunong Tomas. Both hailing from the UST Department of Political Science, each provided strategic topics for both ends of the advocacy.
The opening of Dunong Tomas equipped voters with the ABCs of voting. Rodriguez spoke on evaluating candidates while Castillo undertook the topic of political discourse.
For the closing webinar, it featured themes on post-election reform, vigilance, and social responsibility, in which Castillo focused on institutions and what needs to be fixed in Philippine democracy, while Rodriguez discussed civic and political consciousness.