Assoc. Prof. Agnes L. Castillo, PhD, a faculty member of the Department of Pharmacy of the Faculty of Pharmacy and the Graduate School, was hailed as one of the eight outstanding health research mentors (representing the National Capital Region cluster for the Graduate Category) by the Department of Science and Technology – Philippine Council for Health Research and Development (DOST-PCHRD), which announced the eight winners on January 28, 2022.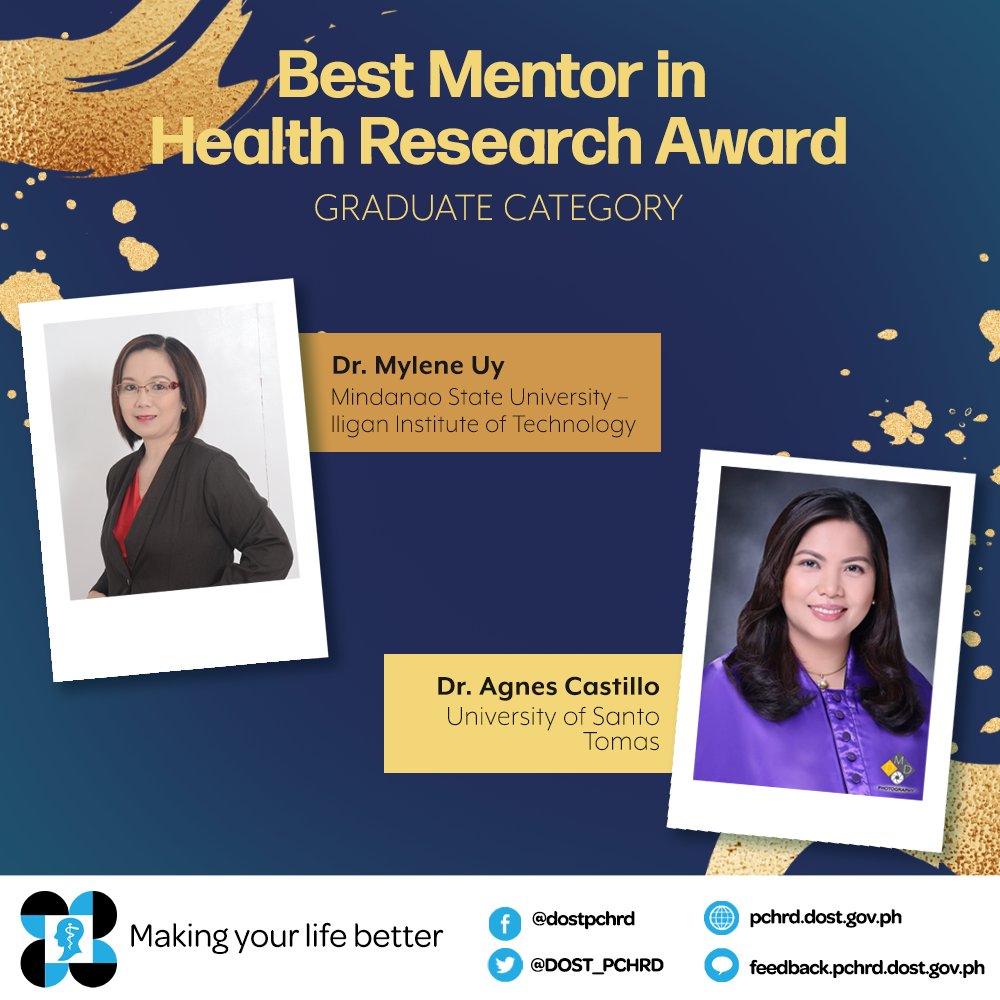 Castillo, who to date has mentored two PhD in Pharmacy and fifteen MS in Pharmacy students in completing their terminal research requirements, most of which were published in Scopus-indexed journals, was recognized for her ability to guide budding health researchers toward making significant contributions to their respective fields. She continues mentoring a new batch of scientists, a group of 12 advisees, most of whom are conducting experiments for their respective studies.
In an interview with the Communications Bureau, Castillo disclosed her belief that health researchers "must be mindful of the scientific integrity and ethical soundness of research protocol through good research practice so as to maintain quality, relevance and reliability of research output," emphasizing the importance of character in being a good researcher. While she acknowledges that most students begin with degree acquisition as their end-goal, she hopes to impart to them that 'having the degree is just an icing on the cake." Among the values she strives to impart to her advisees are "focus, determination, time management, proper documentation, honesty, patience, and a lot of hard work," as well humility and being teachable.
Once a student herself, Castillo paid homage to her own mentors, the late Dr. Eduardo de Leon, Assoc. Prof. Ma. Tomasa Ochoa, Dr. Marina Osi, former Science Dean John Donnie A. Ramos, PhD, as well as Academician Maribel G. Nonato, PhD. Meanwhile, Prof. Grecebio Jonathan D. Alejandro, Dr. rer. nat., and Research Center for the Natural and Applied Sciences Director Bernard John V. Tongol, PhD provided the recommendation letters for Castillo's nomination. She dedicated the award to her family and thanked her students, colleagues, and superiors, namely Pharmacy Dean Aleth Therese L. Dacanay, PhD, in the academe.
Currently, she and her students are working on various projects, such as on the anti-inflammatory activity of Pandanus spp., chondroprotective potential of Alipinia, antihyperuricemic activity of Dillenia. Some of the projects have gone past the experimentation phase and are awaiting the publication of results. Meanwhile, their current project is studying the antiangiogenesis property of syringin and alpinumisoflavone. Funding agencies such as the Commission on Higher Education, National Research Council of the Philippines, and the Philippine Institute of Traditional and Alternative Health Care have provided support to several undertakings.