UST Assistant to the Rector for Planning and Quality Management Prof. Clarita D. Carillo, Ph.D. presented her paper titled "Education and the suburbs in the Philippines and in Asia: Problems and Good Practices" at the Annual Council of the World Union of Catholic Teachers – Union Mundial
de Educadores Catolicos (WUCT-UMEC) in Rome. Held from November 9 to 11, 2018, the conference focused on the theme, "Educate in the World's Peripheries: The Challenges, The Good Practices."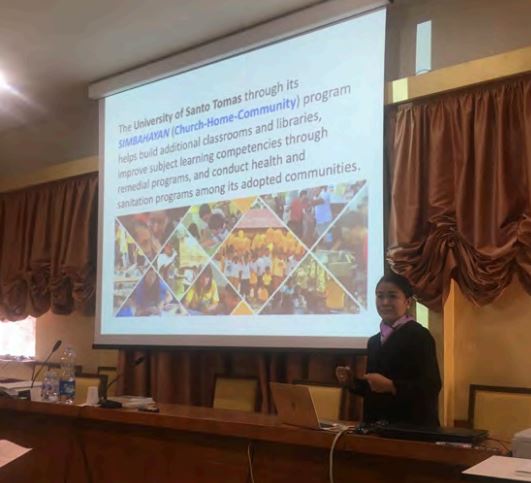 Carillo presented some of the latest national statistics relevant to the plight of education in the Philippines as she provided analyses particularly on the perennial challenges faced by Philippine education in the suburbs, including the shortage in facilities, shortage of teachers, lack of infrastructural support, uneven quality of education, and persistent poverty; as well as the contributing factors to such challenges. She also presented some of the initiatives at the national level to address these problems, such as the open high school program under the Alternative
Learning Systems; intensified home visitation; environmental school projects; subject-area focused school programs; and collaborations with higher education institutions (HEIs) as adopted communities under community development and extensions programs.

Founded in 1950, the World Union of Catholic Teachers is an autonomous organization that works with the Congregation for Catholic Education, the Council for the Laity and the Episcopal Conferences. It also supports the rights, freedoms, and interests of Catholic teachers in the context of the social doctrine of the Church and cooperates with other international organizations involved in teaching and education, such as UNESCO, for Catholic teachers involved in formal, private, and Catholic schools.

The WUCT's three-day council was attended by delegates from Italy, France, Spain, Belgium, Germany, Holland, United Kingdom, Hungary, Congo, and the Philippines, among others. Carillo is affiliated with the Teacher Education Department of the University of Santo Tomas College of Education and is a member of the Educational Management and Leadership Cluster of the UST Graduate School.