Ryerson University Professor Sorpong Peou, Ph.D., talked about "Democracy and Human Rights" in the second part of the TEC COVID-19 Colloquy Series held on September 12, 2020, with the theme, "Understanding 21st Century Democracy: A Call for Teacher Agency."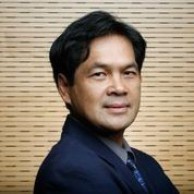 Peou, who is affiliated with the Department of Politics and Public Administration of Ryerson University, Canada, underscored the democracy and human rights situation in Southeast Asia, which have come under threat during the last two decades. He explained that it is not simply because countries in the region lack a liberal cultural tradition but also because of the rise of China and the relative decline of the United States, especially after President Donald Trump came to power in 2017 with a nationalist agenda.
The panel of reactors composed of Mr. Rowel Padernal and Dr. Ethel Agnes Valenzuela, accentuated human rights and support for teachers and administrators to overcome this pandemic.
This webinar session, organized by the University of Santo Tomas – Research Center for Social Sciences and Education (RCSSED) and the Teacher Education Council (TEC) of the Department of Education, was participated in by 110 public school teachers, master teachers, and supervisors from all over the country. Asst. Prof. Katrina Ninfa Topacio was Master of Ceremonies.