Inst. Victor Jose B. Buendia, a member of the academic staff of the UST-Alfredo M. Velayo College of Accountancy teaching in the accounting information system cluster, talked about international certifications in the 2021 Philippine Institute of Certified Public Accountants (PICPA) – Junior Philippine Institute of Accountants (JPIA) Webinar Series: Mindanao Leg on March 26, 2022. Discoursing on the topic "Beyond CPALE: What Other Certifications Can I Take?", Buendia discussed the overview of Certified Internal Auditor (CIA) and Certified Information System Auditor (CISA).
In his talk, Buendia discussed the qualifications and requirements before one can take the CIA and CISA certification examination, the coverage of the examination, and the professional and career path of a CIA and CISA professional. Other than being a Certified Public Accountant, Buendia also holds CIA, CISA and Certified in Risk Management Assurance certifications.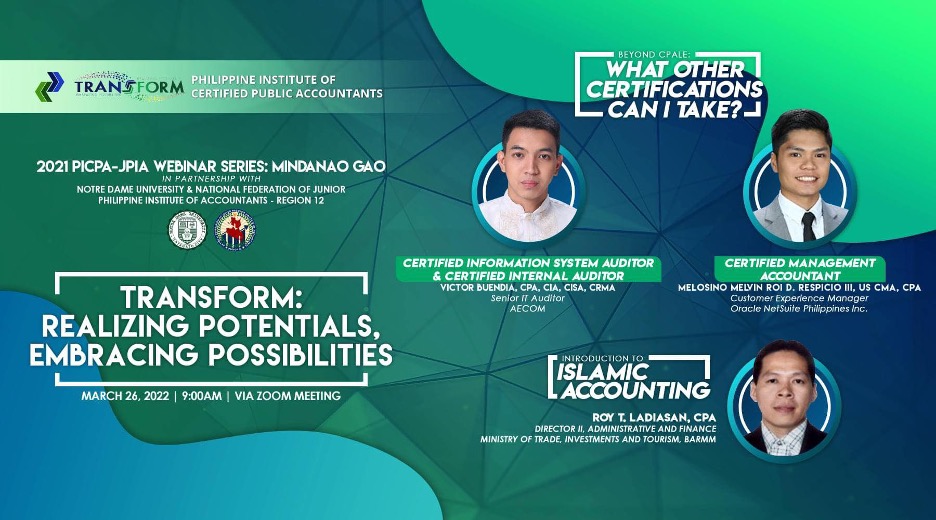 The 2021 PICPA-JPIA Webinar Series: Mindanao Leg is one of the projects of the PICPA National Students' Participation Committee in partnership with Notre Dame University and JPIA Region 12. The Committee is chaired by Inst. Francisco M. Caliwan, Jr., the Assistant Dean of the UST-Alfredo M. Velayo College of Accountancy.