Department of Mechanical Engineer faculty member Asst. Prof. Ricardo S. Balog, former Assistant Dean of the Faculty of Engineering, was recognized for designing and fabricating low-cost medical equipment that medical practitioners can buy locally for lesser cost. For this, he received the Mario Cruel award for Advanced Engineering Technology together with four other recipients of the 2018 Philippine Association for the Advancement of Science and Technology (PHILAAST) awards in a ceremony that took place in September in Quezon City.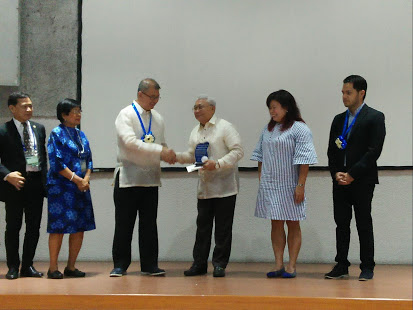 Among Balog's functionally innovative medical and scientific instruments which answered or solved the technological needs of medical doctors, other professionals and researchers are:
(1) A low-cost surgical instrument, multi-purpose, adjustable and self-retaining retractor used by surgeons in performing surgery in a patient's abdominal area, used at the UST Clinical Division and a self-retaining retractor surgical instrument used by surgeons while performing surgery on the patient's throat, used by doctors of the UST Medical Missions, Inc. in their medical missions in Sapang Palay and ultimately at the UST Hospital;
(2) A clamp anywhere "flexible retractor stand-holder which holds in place a retractor used in surgical operation (e.g. hemorrhoidectomy) at the UST Hospital which enables doctors to perform operation even outside of the operating room without surgical assistance;
(3) An orthopedic device, used to correct misaligned/dislocated bones, that is, to stretch/lengthen/realign patient's lower limb bones;
(4) A practical heat block apparatus for the loop-mediated amplification (LAMP)-based detection of shrimp pathogens under the gram, Biotechnology for Shrimp: Utilizing Molecular Technologies to Elucidate Shrimp Immunity and Develop Disease Diagnostics" with Dr. Mary Beth Maningas of the UST Research Center for the Natural and Applied Sciences. In addition, a heating block stand was created to hold vials that contain the shrimp test specimen of the above-mentioned project; and
(5) A balut vending machine prototype which is a part of "Project 5" (Market Research) of the "Itik Pinas" Program of Philippine Council for Agriculture, Aquatic and Natural Resources Research and Development (PCAARRD).
The Mario Cruel award is being given by the family of Mario Cruel to continue his legacy. Cruel, a Filipino Electrical Engineer and entrepreneur, is a staunch supporter of sustainable energy, gender equality and environment protection. Engr. Balog is the first recipient of this award. The other awardees for this year are: Dr. Rosalinda Torres for Gregorio Zara Award for Basic Science Research, Dr. Marissa Paglicawan for Gregorio Zara Award for Applied Science Research, Dr. Rody Sy for the Dr. Paulo Campos Award for Health Research, Dr. Artemio Salazar for the Leads Agri Award for Agricultural Research, and Dr. Elmer Dadios for the David M. Consunji Award for Engineering Research.
Aside from teaching, Balog also served as director of the now defunct Institute of Technological Courses, and supervisor of the Machine Shop Laboratory. It was in those years that he started to be actively involved in the University community service activities by lending his expertise in fabrication, construction and training. He was part of the construction of Onters for the Aeta communities in Sitios Malasa, Mabilog, San Martin and Sta. Rosa in Bamban, Tarlac, the installation of support structures for UST's Long Distance Education Program for the Aeta communities, the design and installation of water pump and piping system for the water supply systems in Sitio Buoc, Bamban, Tarlac . He also designed the course which he himself uses as trainor in the annual skills training in Metal Fabrication and Welding in coordination with the University's training and education program known as Vocational Skills Training and communities needing Engineering Program (VSTEP) which is given to out-of-school-youths and residents of adopted communities.
Balog graduated from the University of Santo Tomas with a degree in Mechanical Engineering, and a Master in Engineering Program major in Mechanical Engineering from the UST Graduate School. He trained in Mechanical Engineering for Production in Japan under the JICA Vocational Instructors' Training Course.