UST Central Student Council Interim President Robert Dominic D. Gonzales, a fourth-year student of the Faculty of Medicine and Surgery, was cited by the Association of Philippine Medical Colleges and the National Conventions Board on March 20, 2021.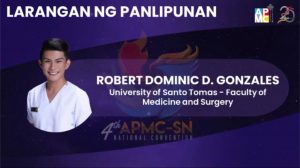 Gonzales won two awards: Natatanging Mag-aaral ng Medisina ng Pilipinas (National Level) [Outstanding Medical Student in the Philippines] and Special Award: Natatanging Mag-aaral sa Larangan ng Panlipunan [Outstanding Student in Social Work]. The awarding ceremonies were held virtually via Zoom.
Weeks before this, Gonzales was awarded the Natatanging Mag-aaral ng Medisina ng Pilipinas at the regional level (National Capital Region – South Luzon) on March 3, 2021, following the screening process and the endorsement by FMS Dean Dr. Ma. Lourdes D. Maglinao.
In a public post on his Facebook page, Gonzales wrote, "Given the sociopolitical issues that we are facing right now, these awards are but additional reminders that we need to step up more towards the development of our nation. As future medical doctors, we also have the capacity to be social mobilizers who can participate in policy-making, effect changes in the government's broken systems (especially those pertaining to healthcare), and all of these, together with our prime duties of caring for our patients. Thank you so much for these distinctions, Association of Philippine Medical Colleges and National Conventions Board. I hope to live by these awards with the direction of being an outstanding doctor OF and FOR the people."
Gonzales completed his Bachelor of Science in Pharmacy degree from UST in 2017 and passed the licensure examinations in the same year. As a medical student, he was elected Central Student Council Secretary for A.Y. 2018-2019, CSC President for A.Y. 2019-2020, and was appointed CSC Interim President for A.Y. 2020-2021. He is set to complete his final year of medical school this term and subsequently moves on to his post-graduate internship at the UST Hospital.