Josephine B. Alarcon is a full-time faculty member of the Department of English in the University of Santo Tomas, Manila, Philippines. She was Coordinator for Languages and Humanities in the Faculty of Engineering from 2007-2010. She is a member of professional organizations like British Council Teacher's Club, ASIA-TEFL among others. She has read papers in international conferences, and has been a research associate of the University of Santo Tomas since 2008. Her research interests are in the areas of Discourse Analysis, World Englishes, Philippine Engish, Language Education, Forensic Linguistics.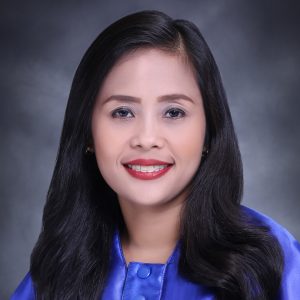 Asst. Prof. Josephine B. Alarcon, MAT
Department of English | Research Center for Social Sciences and Education
Degree 
Master of Arts in Teaching – English Language Arts (Philippine Normal University – Manila, Philippines), 2004
Bachelor of Secondary Education, major in English (Pamantasan ng Lungsod ng Maynila – Manila, Philippines), 1996 
Non-Degree Trainings 
Research Ethics Training for Social Sciences – February 27-28, 2018
CITED Training – June 13, 18, and 19, 2018
Certification Course as Teacher Consultant for The Philippines' Writing Project – October 22-28, 2016 
Eligibility 
Licensure Examinations for Teachers Passer
Forensic Linguistics
Discourse Analysis
Undergraduate
Language and the Media
Technical Writing
Academic Writing
Oral Communication in Context
Reading and Thinking Skills for Academic Study
Purposive Communication
Recipient, JASSO Short-Stay in Japan (Yokohama National University, Japan)
Member, International Association of Forensic Linguistics, ASIA-TEFL, and British Council Teachers' Club
Reviewer, Asian Journal for English Language Studies – Volume 7
Thesis and Dissertation Editor

, UST Graduate School – Office for Graduate Research
Latest Paper Presentations
July 2019 – Analyzing the linguistic features of select republic acts of the Philippines, International Association of Forensic Linguists Biennial Conference, Melbourne, Australia
March 2018 – I don't get it!: Lexico-grammatical features of Republic Acts in the Philippines , Linguistic Society of the Philippines, Balanga, Bataan (with Danny Balance as co-author)
July 2016 – Response elicitation strategies in Philippine courtroom questioning , 2nd Asian Regional Conference of the International Association of  Forensic Linguistics, Manila, Philippines
© Copyright 2020 . UNIVERSITY OF SANTO TOMAS. All Rights reserved.
Powered by: UST COMMUNICATIONS BUREAU