Twenty students in their final year under the College of Tourism and Hospitality Management (CTHM) recently completed their international internship with Dusit International, Thailand. The participants were under the program BS in Hospitality Management majoring in Hospitality Leadership.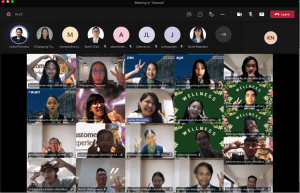 They were trained to develop project pitches for the specialized areas of Wellness, Learning and Development, Customer Experience, Marketing, and Rooms Operations for the whole duration of the internship. The student trainees were: Aliana Renee B. Ortonio, Angela Nicole N. Mapalo, Jeanicka Eiren T. Ibay, Joshua T. Enriquez, Rafael Mari G. De San Jose, Raven Fe P. Guarin, Tricia Gayle M. Balagat, John Vincent R. Calizon, Shanelle Sofia G. Aballa, Raphaelle Gale O. Buenaflor, Jully Anne G. Centeno, Joshua Angelo A. dela Cruz, Julienne Rose G. Leones, Timothy John B. Regalado, Bienne Trisha B. Torres, Nicholas Amadeus P. Torres, Marie Pauline Y. Custodio, Bianca Yzabelle J. Marquez, Martina Ira C. Paduga, and Erika Patrice D. Tionloc.
The first UST-CTHM and Hotel Dusit's Virtual Internship Program was made possible through the collaborative efforts between the Corporate Executives from Dusit International represented by Mr. Aloysius Michael, Assistant Vice President for Operational Excellence, and Ms. Chitpapong Tipparat – Corporate Director for Learning and Development, and the University of Santo Tomas administrators represented by Dean Granando. An online international internship acculturation orientation was initially conducted followed by the hotel partner's briefing on their company profile and training policies. During the ten-week training, the students were given time to meet for consultations and planning with their assigned coaches and with the Learning and Development Team to discuss their weekly tasks, deliverables, and other activities.
The interns, who participated in the home-based work arrangement with the Corporate Office of Dusit International, successfully presented their project pitches to executives and top-ranking officials of the company at the end of the training. An invitation for the CTHM trainees to join the Dusit team was extended by the Dusit Chief People Officer Khun Niramol Jindanuwat.