Through UST's partnership with Philab Industries, a company that
established and developed the operations of the Genomic Institute of
Asia (GINA), the Department of Biology of the College of Science of the University of Santo Tomas was able to obtain two DNA sequencing equipment worth P13-million used for examining and expressing genetic
codes.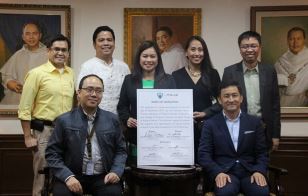 The partnership was made possible through College of Science faculty member Assoc. Prof. Pia Marie S.P Albano, Ph.D., who coordinated with Philab Industries in order to provide the students the chance to learn about DNA sequencing.
Among those who attended the signing of the deed of donation were Philab
Industries CEO and GINA founder Mr. Hector Thomas Navasero, College of Science Dean John Donnie A. Ramos, Ph.D., and Department of Biological Science Chair Prof.
Rey Donne S. Papa, Ph.D. In an interview with Prof. Papa, he said that "Philab was actually looking at strengthening its partnership
with the academe and looked to UST as one of the potential
recipients of the sequencer because Philab has seen how much progress we (in UST)are actually making in terms of strengthening our molecular biology capabilities."

DNA sequencing gives the breakdown of a certain genetic sequence that is
expressed by a living organism. These sequences express codes for protein which also express different characteristics such as the color of an individual's hair. "The sequencer can code for diseases and certain abnormalities. Therefore, if you know the DNA sequence from a certain
cell or a certain set of tissues that express a given characteristic, then that means we would know what is happening and we would know why a person is prone to cancer,"
Papa said. Prior to acquiring the sequencing equipment, students and researchers of the Department of Biology sent the DNA samples abroad for sequencing, leaving them unaware of the process of DNA sequencing.
Through receiving the sequencers, they would now know how to operate the machines themselves. "This will help improve the research and learning experience on the part of the students of the department and also the
graduate school, [those] who will be exposed to work on research projects using the new sequencers," Papa further explained.

The DNA sequencing equipment, Ion Personal Genome Machine and the Ion
OneTouch 2 System, are products of nextgeneration sequencing technology which allow faster sequencing of DNA samples.

According to Papa, the Biology Department will revise its program offerings
for next academic year, which will include new courses such as Major in Medical Biology, Major in Environmental Biology and Major in Industrial Biology. He added that the DNA sequencers are intended to be used
heavily for research purposes and mainly as a teaching tool. He adds that through using the DNA sequencers, the College of Science will be able to give its students the holistic view of how molecular biology is being done in this day and age.