Thomasian Electronics Engineering (ECE) students were hailed 2nd runner-up in the 1st Inter-University Globe and Amazon Web Services (AWS) DeepRacer League 2023 held at the Globe Tower, Taguig, last January 17.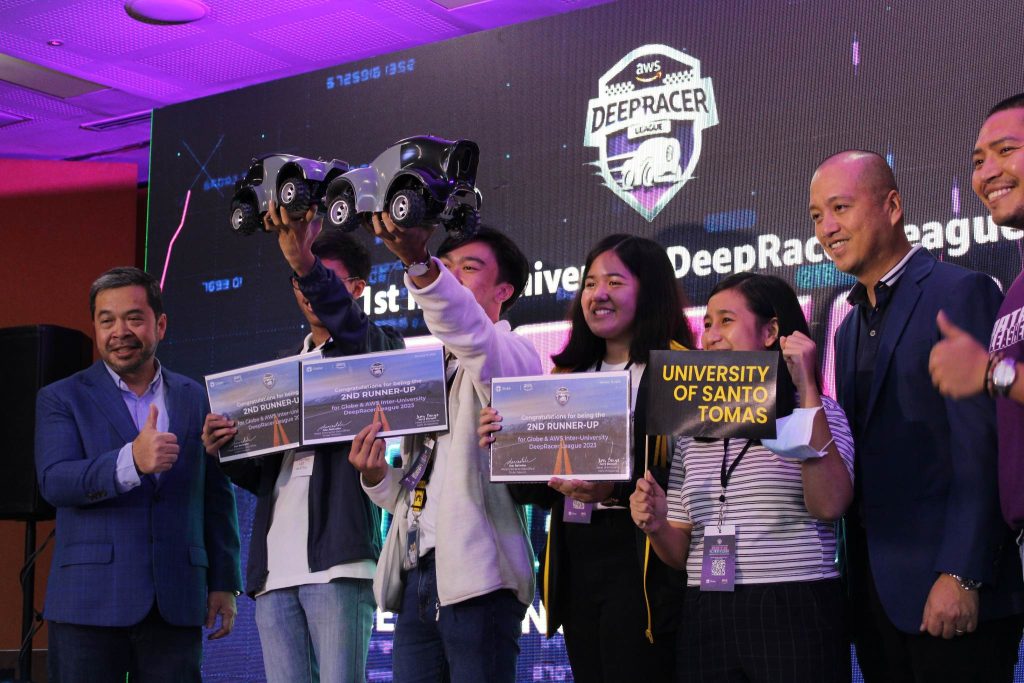 The inter-university league comprised 19 teams from five universities, namely, Batangas State University (BSU), De La Salle University (DLSU), Mapua University, University of the Philippines (UP), and University of Santo Tomas (UST).
The contest proper had an elimination round where the top three scorers will be drawn to proceed to the final round where winners will be concluded.
Two teams represented the University. The runner-up, veloECEty, was composed of Aryzza Antonette Aperocho, the team captain, Kristan Ruiz, and John Earl Patrick Sandoval with Engr. Ma. Madecheen S. Pangaliman, MSc as their coach; whereas, the other team, Tisla Rudester, consisted of Gian Angelo Calumpang, Alec Mendoza, and Cherline Anne Perez and was led by Engr. Gabriel Rodnei M. Geslani, MSc.
The veloECEty attained a total time lap of 15.460 seconds in the final round, placing them in the third spot, while Turing Racing of UP Diliman and Cardinal Dynamics of MAPUA University finished first, with 13.009 seconds, and second with 13.884 seconds, respectively. The car models used were replaced in each round and random tracks were used per race.
When asked about the process of building the prototype, Aperocho stated that each member thought of a strategy which is to design a reward function and test every code they have created to determine which model will yield the fastest time lap while still being stable.
"What challenged the team the most was that we were only given a week for the prototyping and testing of our models before the contest. As students who were new to Machine Learning (ML), we struggled with designing a competitive model due to the short amount of time given," she added.
Moreover, she hopes that this achievement inspires the Thomasians to grab learning opportunities such as workshops and competitions as one can gain valuable experiences and new skills that are beneficial in the long run.
"Once we become successful Thomasian graduates, we could use [these] skills and knowledge in technological areas, such as machine learning, to develop innovative projects beneficial to societal progress," she highlighted.
The said event is an autonomous racing league that equips self-driving robotic cars with ML for track racing. Prior to the competition, participants attended a workshop where they received hands-on learning.