University of Santo Tomas Graduate School Center for the Conservation of Cultural Property and Environment in the Tropics (USTGS CCCPET) Director Dr. Eric B. Zerrudo, presented his research on the Philippine intangible cultural heritage during the virtual Human, Nature, and Intangible Cultural Heritage 2020 World Forum for Intangible Cultural Heritage held from September 23 to 25, 2020.
Zerrudo's paper was titled "PULSO: Philippine Intangible Cultural Heritage in Times of COVID 19 Pandemic."
Taking an excerpt from the 2003 Intangible Cultural Heritage (ICH) Convention, Zerrudo shared that "intangible cultural heritage is the community's response to their environment, their interaction with nature and their history… and ICH is about people's values, particularly people's harmonious relations with nature." He also explained that 'pulso' is a term for pulse in the local language.
ICH is a meaning-making activity of man to make sense of nature, environment, society, and history. ICH is man's interaction based on the heartbeat of nature and the universe.
Citing renowned Filipino anthropologist F. Landa Jocano, Zerrudo stressed that "life is conceived by people in harmony with nature, the pulse is its expression. Anything which tends to interfere with this flow of harmony upsets the pulsebeat."
The forum's main objective is to discuss the meaning and role of the intangible cultural heritage and how it can contribute to environmental sustainability.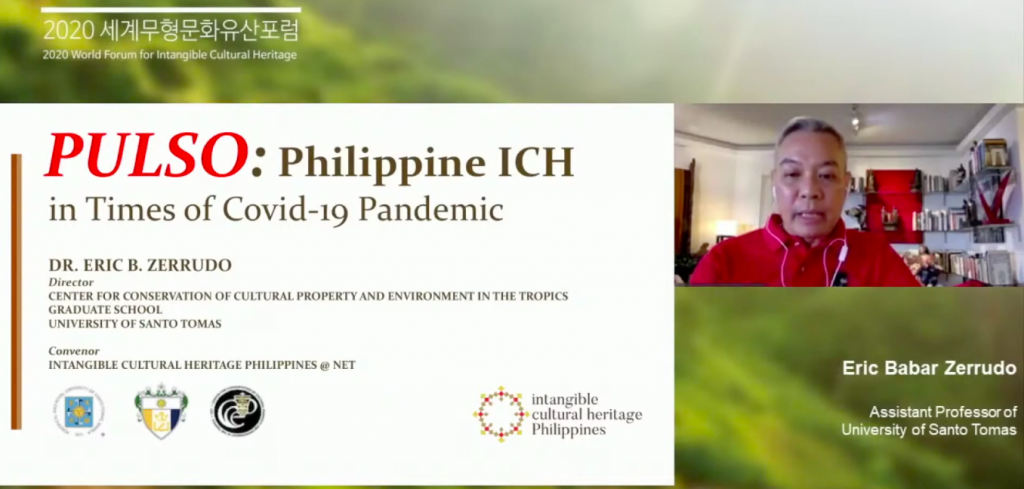 The forum was hosted by Korea's National Intangible Heritage Center and International Information and Networking Center for Intangible Cultural Heritage in the Asia-Pacific Regions under the auspices of the United Nations Educational, Scientific and Cultural Organization (UNESCO).