Very Rev. Fr. Filemon I. Dela Cruz, Jr., O.P., was installed as the 13th Prior Provincial of the Dominican Province of the Philippines on February 2, 2021, at the Santo Domingo Church.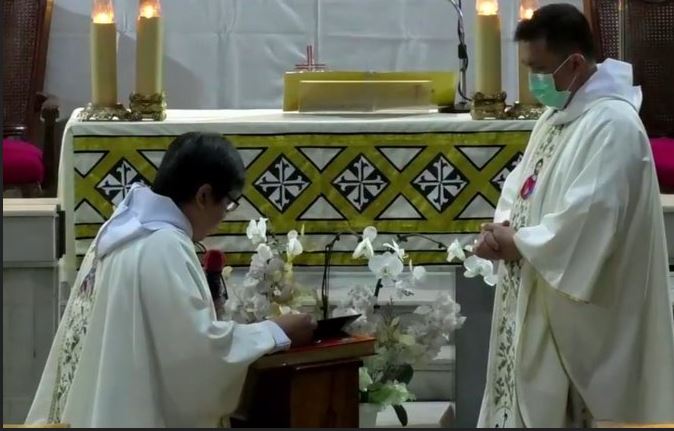 Fr. Dela Cruz was elected to his post during the 12th Provincial Chapter held in Caleruega, Batangas, on January 17, 2021. By virtue of his new position, he will also serve as the University's Vice-Chancellor for four years and is now Presider of the Board of Trustees.

The transition coincides with a number of milestones, noted Fr. Dela Cruz in his message. To be celebrated in 2021 are the 800th death anniversary of the Founder of the Order of Preachers St. Dominic de Guzman, the 500th year of the arrival of Christianity in the country, and the 50th founding anniversary of the Dominican Province of the Philippines. The COVID-19 pandemic and its daunting effects on society are still be ongoing, (but) causes of joy, such as these aligned milestones, remain.

"It may sound like simply numbers, but they tell us something. These numbers would remind us how God has helped us and saw us through the years. The numbers go beyond our time, our terms, our generations. And so, sometimes, when we feel disheartened by the things that we go through, like this pandemic, it's a good time to remember the God who has journeyed with us through 800, 500, and 50 years, full of trials and difficulties, but never wanting of God's blessings and His grace," said Fr. Dela Cruz.
"That is why even if we held the provincial Chapter in the midst of pandemic, it is not enough to dampen our spirit. There is more that makes the event not simply memorable, but very significant," he added.

Formerly the Vice-Rector for Religious Affairs in UST, Fr. Dela Cruz was most recently assigned to the House of San Lorenzo Ruiz and Companion Martyrs in Navotas, and was Prior of the Rumah Santo Tomas de Aquino in Surabaya, Indonesia.

Ordained priest in 1992, Fr. Dela Cruz obtained his Bachelor's degree in Philosophy at the Philippine Dominican Center of Institutional Studies in 1986. His canonical degree in Sacred Theology in 1991, and his Master's degree in Theology in 2006, were both obtained in UST.
The installation ceremony can be viewed through the La Naval de Manila Facebook page: https://fb.watch/3xfWbdd3eK/