The University of Santo Tomas (UST) Center for Creative Writing and Literary Studies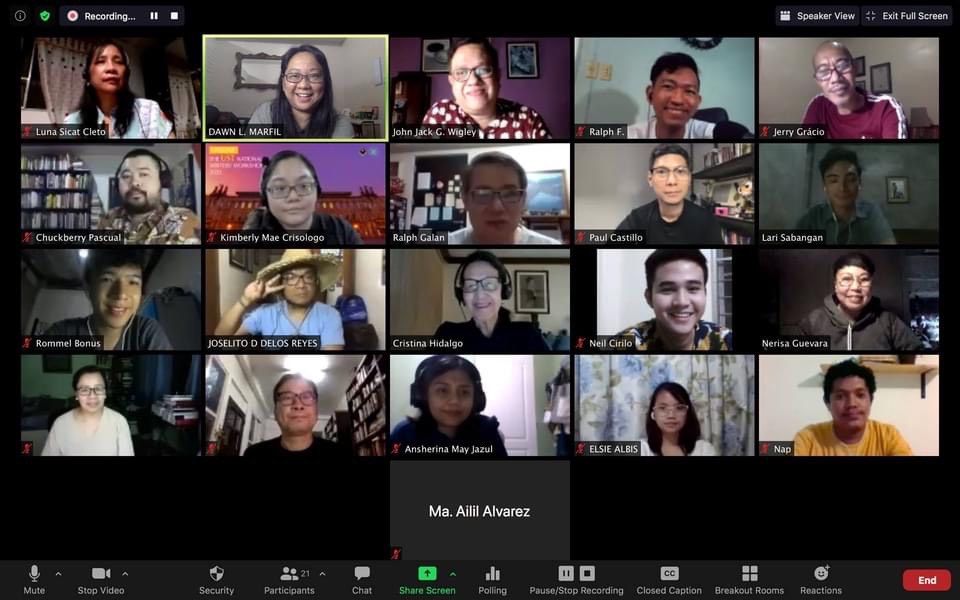 (CCWLS) will hold its annual National Writers' Workshop from November 9 to December 2, 2020, from 5:00 to 8:00 PM via Zoom Conference.
Now on its 9th workshop after the Center's revival in 2012, the UST CCWLS will guide its 15 writing fellows via cyberspace from the comforts of everyone's home in contrast to the workshops of the previous years that were usually held in Baguio City. This year's fellows consist of professionals and graduate school students from all over the country who were selected based on the merits of their submitted works.
The fellows are: Elsie C. Albis (Dula; UST), Cat Aquino (Short Story, ADMU), Napoleon I. Arcilla, III (Maikling Kwento; Catanduanes State Colleges), Adelaimar C. Arias Jose (Short Story; UP), Rommel Fabros Bonus (Maikling Kwento; UP), Neil Angelo S. Cirilo (Sanaysay; Central Luzon State University), Kimberly Crisologo (Short Story; UST), Ralph Lorenz G. Fonte (Tula; UP), Carmel Ilustrisimo (Creative Nonfiction; UST), Ansherina May D. Jazul (Screenplay/Dula; PUP), Ma. Jhayle Ann Marie Z. Meer (Poetry; UP), Miguel Enrico C. Paala, III (Tula; UP), Pietros Val R. Patricio (Creative Nonfiction; DLSU), Gesuina Marie D. Puangco (Poetry; DLSU), Larry Boy B. Sabangan (Sanaysay; West Visayas State University).
The teaching panel is led by senior guest panelist premiere poet and literary critic and theorist of Philippine poetry in English Dr. Gémino Abad. The other guest panelists are fictionist Luna Sicat Cleto, and poet and screenwriter Jerry Grácio.
The rest of the teaching panel are from the UST CCWLS: CCWLS Director Professor Emeritus Cristina Pantoja Hidalgo; Asst. Director Ralph Semino Galán; and resident fellows Dr. Augusto Antonio Aguila, Ma. Ailil Alvarez, Paul Castillo, Dr. Joselito Delos Reyes, Nerisa del Carmen Guevara, Dawn Laurente Marfil, Jose Mojica, Ned Parfan, Dr. Chuckberry Pascual, Dr. John Jack Wigley, and Joselito Zulueta.
The teaching panel is composed of fictionists (short story writers and novelists), essayists, poets, literary critics, playwrights, screenwriters, and translators in English and Filipino. Most of them write in two or three genres, and some are bilingual or even trilingual, such as Galán, who writes in English, Filipino, and Cebuano.
This year's workshop director is Nerisa del Carmen Guevara, a poet who has diversified into creative nonfiction writing and performance art. The workshop coordinator is Dawn Laurente Marfil, who dabbles in creative nonfiction writing.
The UST national writing workshop has produced more than 100 writing fellows since its revival in 2012, a good number of whom have won prizes at the Palanca and other prestigious award-giving bodies, and others have published books.