Capping the August 9 Onboarding activities for the freshies of the higher education cluster was the  unveiling of the University's iconic Tiger statue and UST block letters, which are found in the Plaza Mayor and usually join the Main Building in stills that immortalize UST.
Facilities Management Office Director Rev. fr. Dexter A. Austria, O.P., SThD said the unveiling of the revamped familiar icons heralds the University's initiative to go beyond its España campus, with UST General Santos and UST Santa Rosa campuses already nearing completion.
The Tiger, which is depicted in an act of leaping and pouncing, shows agility and vitality, two important qualities as the University rises above the challenges posed by the pandemic. Fr. Austria stated that the figures at the campus that boast Thomasian identity roar a symbolic message that the community has risen above the COVID-19 pandemic. "It is a symbolism for us to get out of this pandemic, [to] rise above the pandemic, and our expansion," Fr. Austria said.
Also unveiled were the new UST block letters, which conform to the official font style adopted by the University in its official correspondence. "The letters represent the University's tradition of excellence for having nurtured saints, martyrs, heroes, leaders in various fields, connecting the past 411 years of existence to the current and future generation of Thomasians," said Secretary-General fr. Louie R. Coronel, O.P., EHL.
Fr. Coronel also underscored the importance of the open and common spaces in the campus for it showcases the University's heritage, treasures, culture, and values, which are gifts that the community enjoy with pride.
College of Fine Arts and Design alumnus and former faculty member Mr. Anthony Zamora was the artist behind the 8-foot tall UV resin-made tiger installed at Plaza Mayor.
Rebuilding the Tigers Den
Meanwhile, the newly appointed UST Growling Tigers head coach, the legendary Ginebra court general, Bal David, was formally introduced, along with his coaching staff, to the Thomasian Community.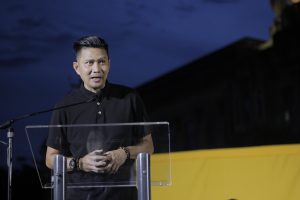 In his message, David requested for the Thomasian Community's support, promising that he will steer the young basketball team, in rebuilding process at present, in his coaching stint. "We will put time and extreme effort para makatulong sa Tigers," the former Glowing Goldie added.
"Gagawin namin ang lahat para makakuha tayo ng magandang position sa darating na UAAP […] inaasahan namin ang malaking suporta niyo po. Kailangan namin kayo para magtulong-tulong this coming [UAAP] season," he said.
Photos by Hans Lawrence V. Malgapu