Three students under the Travel Management department of the College of Tourism and Hospitality Management won First Place in this year's Domestikwhiz 2019 with the theme: "Setting the Goal: The Key to Sustainability." The quiz bee was held on February 23, 2019 at
the School of Statistics Auditorium of the University of the Philippines, Diliman, Quezon City.
Students Gil Ernest M. Gatinga, Andrea Nicole D. Hernandez and Aven H. Hernandez emerged as champions out of 12 teams from different colleges and universities in the Philippines. The students were coached by the Tourism Management Program Chair Ms. Jane G. Devanadera, together with the faculty members from the Tourism Management Department, Atty. Gezzez Giezi G. Granado, DCL, Mr. Jame Monren T. Mercado, and Mr. Avi Ben P. Andalecio.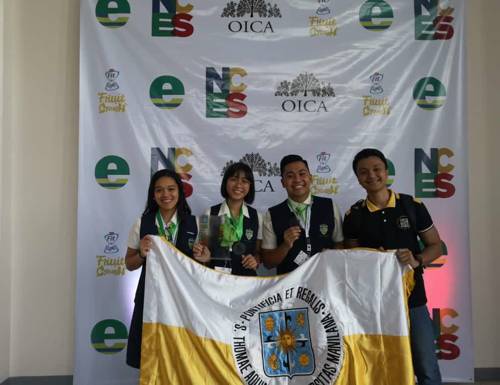 Domestikwhiz is an annual quiz bee for tourism students. It is organized by the UP Club for the Environment and Tourism and has been running for 16 years. Its aim is to encourage appreciation and promotion of domestic tourism among the youth and foster camaraderie among universities.