The University of Santo Tomas, through the College of Science, is the first and the sole representative of the Philippines in the upcoming International Year of Basic Sciences for Sustainable Development (IYBSSD) 2022.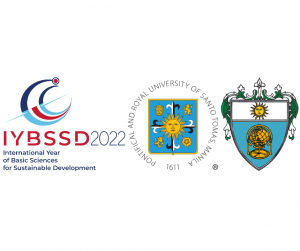 With the aim to strengthen the role of basic sciences worldwide to achieve the Agenda 2030 and the UN Sustainable Development Goals, the University joined the IYBSSD 2022 International Advisory Committee, composed of various national science academies and global scientific networks.
The University will likewise take the role to co-advise the development of the international program that will set the activities of IYBSSD 2022 at its regional and national levels.
As a result of the forged agreement, IYBSSD 2022 Steering Committee President Dr. Michel Spiro will also be the keynote speaker during the opening ceremonies of UST Science Week 2022.
On its third year, the Modified Enhance Online Week of Science 3.0 (MEOWS 3.0) will now hold hybrid events that will be held on April 4-8, 2022 with the theme "Basic Science for the Future".
For more information on IYBSSD 2022: https://www.iybssd2022.org/en/home/