Out of 570 college radio stations across 43 countries, UST Tiger Radio was one of 10 stations that received the Bret Michaels' Spirit of College Radio Awards 2020. The results were announced by the World College Radio Day (WCRD) event organizers and the College Radio Foundation (CRF) on December 17, 2020, through their website.
According to College Radio Day's website, stations are "voted for by the team that organizes World College Radio Day, who seek to shine a spotlight on college radio stations that not only go above and beyond to celebrate the annual WCRD event but also embody the passion and mission of college radio."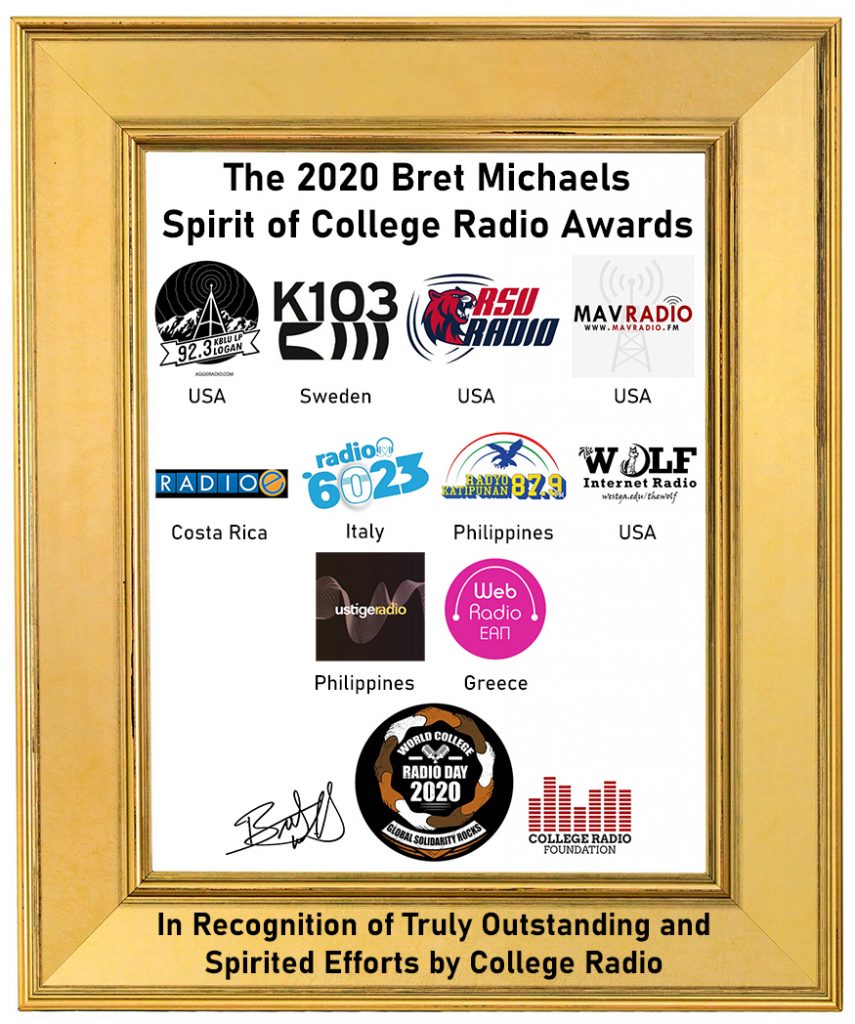 The 10 winners were selected "in recognition of truly outstanding and spirited efforts made by college radio stations on World College Radio Day on October 2, 2020." On that day, the UST Tiger Radio discussed multiple topics of timely societal relevance.
According to the Communications Bureau, under whose supervision the Tiger Media Network and subsequently, Tiger Radio falls, the Tiger Jocks ran four interactive episodes with the following topics discussed throughout the day: From 9 a.m. to 11 a.m., Tiger Jock Nico (Anton John Supe) talked about the Frontliners and the sacrifices they endured during the pandemic; he also cited different articles and videos paying tribute to the brave men and women at the forefront of the pandemic. From 11 a.m. to 1 p.m., Tiger Jock Nova (Alysia Petras) tackled the importance of suffrage and zeroed-down on the processes and guidelines of voter registration.
From 1 p.m. to 3 p.m., Tiger Jock Abel (AJ Velasco) shed light on the role of the media in times of the pandemic. He also mentioned the issue of Misinformation/Fake News, and how it brewed a stigma. On the last show from 3 p.m. to 5 p.m., Tiger Jock Jordyn (Naomi Tolentino) discussed the shift from face-to-face learning to online learning.
College Radio Day 2020 President Anabella Poland and World College Radio Day (WCRD) President Eva Gustavfsson said, "In this challenging year, we were delighted to work with 570 stations, in 43 countries in 6 continents! We salute everyone's creativity and resourcefulness in finding a way to "come together" safely and joyously! We are especially thrilled with the efforts and follow-through of these ten stations worldwide, which went above and beyond for World College Radio Day 2020!"
The College Radio Foundation (CRF) celebrates and recognizes all forms of student radio (online, cable, carrier current, FM, and AM) and supports the activities and continuing operations of all college radio stations. As a registered public charity, the CRF raises funds through sponsorship of events such as the annual College Radio Day. This money is then put directly back into the hands of college radio stations in the form of grants, known as The College Radio Fund Station Grant Program.
This year's awards were named after and presented by the WCRD Ambassador, humanitarian of the year award recipient, and American rock musician Bret Michaels. Aside from UST Tiger Radio, Radyo Katipunan also landed in the top 10.