In recognition of individuals and groups who demonstrated Thomasian excellence in various human endeavors, the University of Santo Tomas will honor a new batch of outstanding students for the Academic Year 2021-2022 in Student Awards 2022 on May 31, 2022. The auspicious event will witness a face-to-face conferment at the Quadricentennial Pavilion.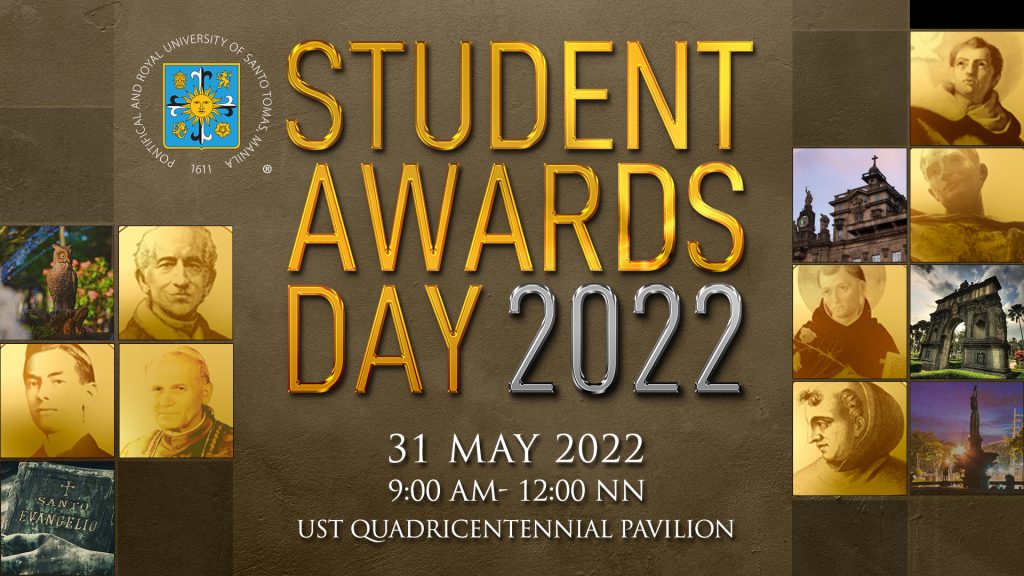 The University bestows its highest distinction to the student achievers from different colleges, faculties, and institutes for their superb performance–whether off-campus or in-campus–in the fields of academics, community development, leadership, and teamwork.
Moreover, the fruitful activities where the student awardees are involved occurred between May 2021 to March 2022.
The categories of Student Awards are the following:
1. Rector's Academic Award for academic excellence;
2. Pope Leo XIII Community Development Award for active involvement in
community development with partner communities or sectoral groups;
3. Quezon Leadership Award for exceptional leadership;
4. Benavides Outstanding Achievement Award for outstanding achievement in
academic or scientific field;
5. Pope John Paul II Outstanding Achievement Award for outstanding achievement in
sports and arts (dance, music, theater, visual arts, literature, film and broadcast arts,
architecture and allied arts, design, and military arts) field;
6. St. Dominic de Guzman Award for outstanding teamwork;
7. St. Albertus Magnus Award for outstanding research work;
8. St. Thomas Aquinas Award for exceptionally outstanding performance; and
9. Tradition of Excellence Award for exemplary performance of a student organization
on a sustained level by having been granted the same award for five (5) consecutive
years.
The e-program and the complete list of awardees in the University Level are provided
through this link: https://tinyurl.com/5a56c5h6