The University of Santo Tomas recently secured industry funding from leading global management consulting, technology services, and outsourcing company Accenture, in an agreement inked between the two parties early this month. The awarding of the grant was formalized on August 24, 2021, through a virtual event organized by Accenture and attended by University officials, led by Vice-Rector for Research and Innovation Maribel G. Nonato, PhD. Leading the Accenture team in the presser was Ms. Ambe Tierro, Accenture Technology Lead for the Philippines and Asia-Pacific.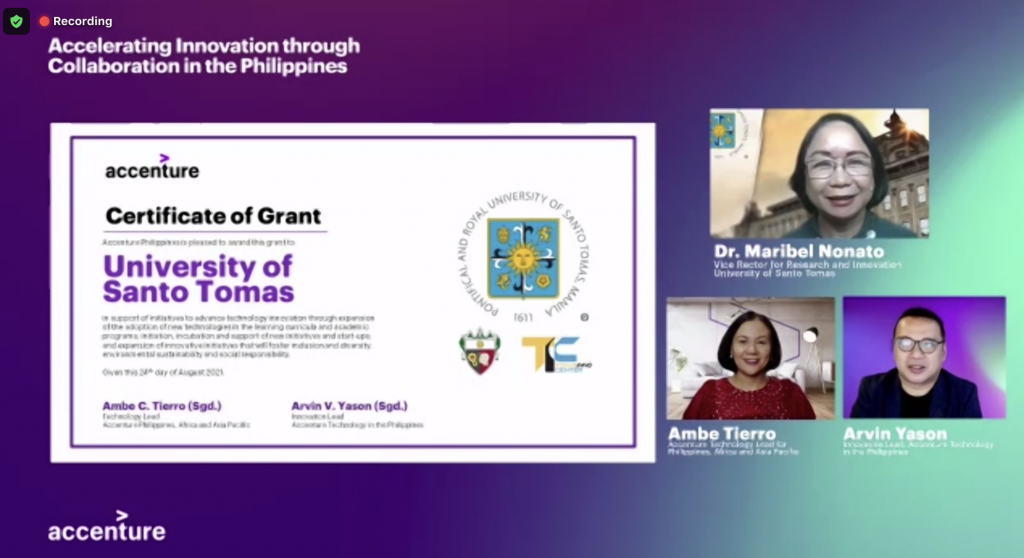 Accenture's Innovation Head Arvin Yason said that for UST, the grant will focus on 5G and Industry Innovation initiatives. The company is also partnering with UST to fund startups related to healthcare. These initiatives are part of the three-pronged aim of Accenture: scaling adoption of new technologies critical for innovation, expanding the academe/incubator network, and amplifying innovation through greater inclusion and diversity.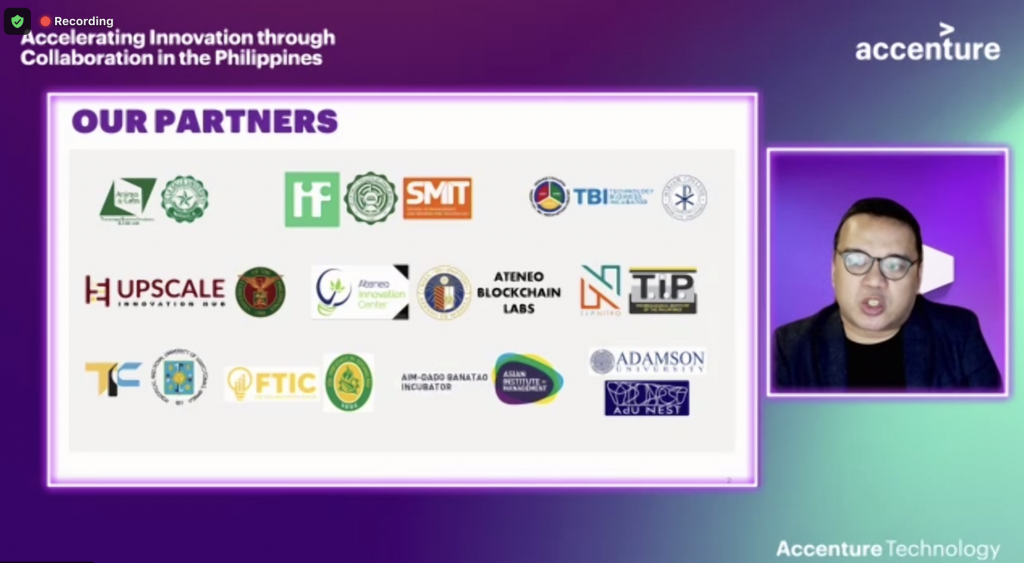 The Industry Innovation Collaboration Space initiative aims to "setup…a learning facility in the UST España campus that will promote the use of Internet of Things (IoT) technologies and Extended Reality capabilities that will be used in the facilitation of teaching courses that are part of the academic curriculum but could also be used in collaborating on cross-disciplinary activities…that will foster innovation and exploration of these new technologies." The newly minted College of Information and Computing Sciences (CICS) will be in-charge of this.
According to CICS Dean Jerralyn T. Padua, the laboratory will support the further integration on ubiquitous computing in the CICS curricula, specifically for Information Technology's IT Automation courses and Computer Science's Artificial Intelligence courses, as this is expected to provide a test bed where all theories and concepts can be realized into practical applications. Going beyond CICS, the IoT lab will also be helpful for various disciplines, such as robotics, agriculture, health, and medicine, which makes it a hub for inter- and multidisciplinary collaborations among the disciplines in UST.
The grant also aims to help the country's efforts toward technology innovation, as half of the grant will be used to support technology start-ups of the DOST-TOMASINNO Center. Specifically, the grant, according to DOST-TOMASINNO Center Manager Raymond Marquez, will help the projects of at least four incubatees whose innovations are geared toward healthcare.