With the recent rise in wearable electronics and the ever-growing need for clean, renewable, and sustainable energy storage technologies, the demand for textile supercapacitors also increased.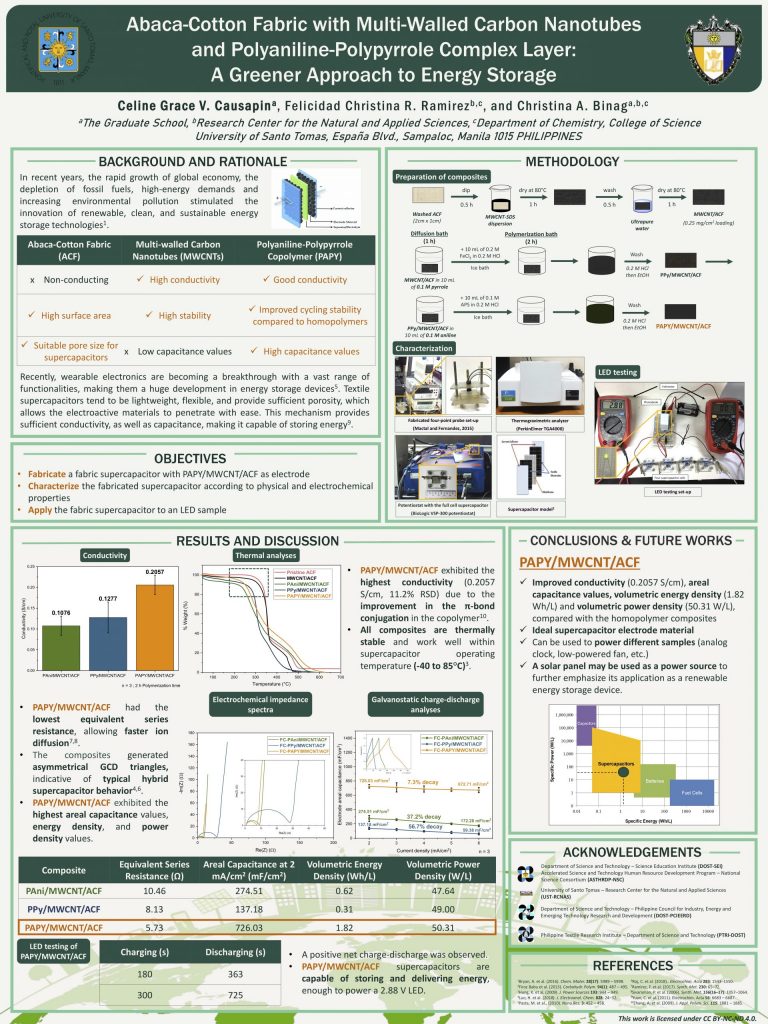 In response to this need, UST Graduate School student Celine Grace V. Causapin, along with UST Research Center for Natural and Applied Sciences and College of Science faculty researchers Dr. Felicidad Christina R. Ramirez and Dr. Christina A. Binag, fabricated a supercapacitor using Abaca-Cotton Fabric (ACF) with Multi-Walled Carbon Nanotubes (MWCNTs) and Polyaniline-Polypyrrole Complex Layer (PAPY) as electrode materials.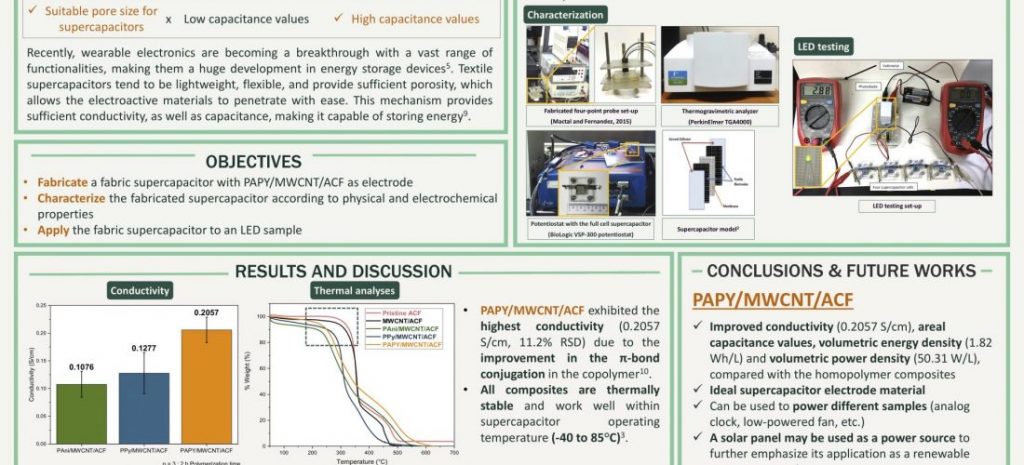 This research study by three Thomasian researchers won first place in the Scientific Posters category of the Rapid Fire Competition under the Material Science and Technology Cluster during the 40th Philippine-American Academy of Science and Engineering (PAASE) Anniversary and 2020 Annual Scientific Meeting and Symposium (APAMS), as announced in the closing ceremonies held via Zoom on August 14, 2020.
The study was able to show that "the energy density (1.82 Wh/L) and power density (50.31 W/L) values of PAPY/MWCNT/ACF fall well within the supercapacitor range of the Ragone plot, indicative of an ideal supercapacitor electrode material behavior." This ACF, though non-conducting, has a high surface area and is suitably porous for supercapacitors, while MWCNTs have high conductivity and stability but low capacitance. PAPY complements the other materials with its good conductivity, improved cycling stability, and high capacitance values.
This means that supercapacitors with these electrode materials are "capable of storing and delivering energy, enough to power a 2.88 V LED" and can be used to power a variety of other low power devices such as PC cards, portable media players and flashlights.
Other potential applications are in off-grid areas or rural areas, as well as assistance during and after major calamities. This textile-based supercapacitor is highly sustainable with the use of indigenous fabrics like abaca blended cotton.