The UST Family Literacy Team of the Research Center for Social Sciences and Education (RCSSED) has received another grant from the Global Challenges Research Fund (GCRF) to explore how families and communities find COVID-19 and how they draw on indigenous knowledge and practices to engage with this information.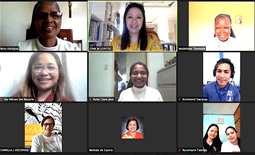 Asst. Prof. Gina Lontoc, Ph.D., leads the team with Prof. Belinda de Castro, Ph.D., and Prof. Camilla Vizconde, Ph.D., as her co-researchers. All three are faculty members of the UST Graduate School. The team gathers information from rural (Calasiao, Pangasinan) and urban (Malibay, Pasay) areas affected by the COVID-19 crisis. Participants are members of communities served by the Dominican Sisters of Charity of the Presentation of the Blessed Virgin, one of the ministries that include family learning and healthcare.

The research is part of the overall project, "Health literacy, indigenous practices and family learning in the time of COVID-19," spearheaded by the UNESCO Team in Adult Literacy and Learning for Social Transformation at the University of East Anglia, Norwich, United Kingdom.

The UST team will be working with UNESCO chair partner country teams in Ethiopia, Malawi, and Nepal. This project intends to develop creative health literacy materials and strategies that build upon intergenerational, local and indigenous learning practices through workshops with various stakeholders. The new research project of the UST Family Literacy Team builds on the two previous projects: first, the "Family literacy, indigenous learning and sustainable development: Proof of concept pilot," funded by the Global Research Translation Award, and second, the "Family literacy and sustainable development: how can we build on indigenous intergenerational learning?" supported by the Global Challenges Research Fund.