Professor Dr. Emmanuelle Sinardet of the Université Paris Nanterre, Paris,
France was the main discussant in a public lecture held on May 4, 2018 at
the Benavides Library Conference Hall, UST. Her presentation was titled "Cultural Studies as a Research Field: The Example of Ecuadorian Studies."
Sinardet is a full professor of LatinAmerican Studies at the Université Paris Nanterre and serves as director of the Centre d'Études Équatoriennes (Ecuadorian Studies Center). She has published over 60 articles and chapters in books on various interrelated topics such as Latin-American and Philippine political and economic history, cultural studies, and 19th century literature.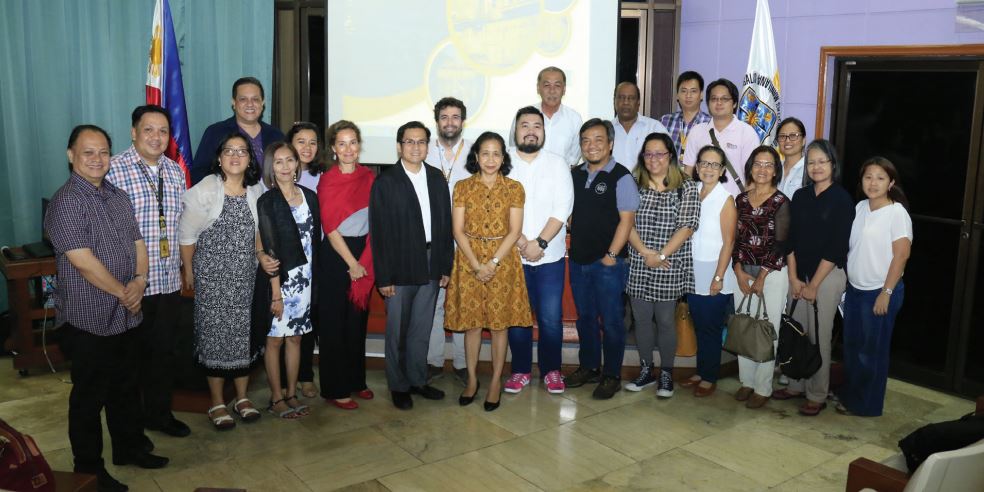 UST Graduate School professor and Instituto Cervantes fellow Dr. Jorge
Mojarro Romero served as reactor for the lecture. Sinardet was invited to give the Lecture after she expressed her interest to know what the UST Research Center for Culture, Arts and Humanities (RCCAH) is currently doing in a number of areas including 19th Century studies, nation-building studies and Cultural Studies. Her lecture illustrates how institutions like the
Ecuadorian Studies Center can drive aspecific research focus such as "the nexus between memory and history." As she explained in her abstract, the "conceptual tools" that research centers like her institution and the RCCAH can unravel how "decolonial thought" can be an area for investigation in the field of Cultural Studies.
Prior to the lecture, Sinardet was also the main discussant in the first of the
Brown Bag Series conducted by RCCAH. Participants to the Brown Bag discussion were Dr. Maria Alexandra Chua, Arch't Demetrio Alcaraz, Jr., Dr. John Jack Wigley, Dr. Archie Resos, Dr. Oscar Diamante and Dr. Cynthia Loza.
The May 4 lecture was one of the public lectures sponsored by RCCAH,
which is headed by Prof. Joyce L. Arriola, Ph.D. This particular lecture was organized by the UST RCCAH, in coordination with the Office of the Vice-Rector for Research and Innovation.

The lecture was attended by faculty members, graduate and undergraduate
students