The University of Santo Tomas was among the universities ranked by EduRank 2023, an independent rankings agency for higher education institutions all over the world. From data regarding 5,830 Asian universities, UST ranked 781st and was 4th among Philippine universities (a total of 229 universities were ranked).
Medicine, biology as top programs in terms of research publications and outputs
Research productivity especially in the fields of Medicine and Biology was recognized by EduRank 2023 for being the highest among the specializations offered by UST. At 586 publications and 15,545 citations, Medicine-related studies ranked highest, followed by BIology, the Liberal Arts and Social Sciences, Psychology, Environmental Science, Chemistry, Engineering, Business, Botany, and Ecology, among others.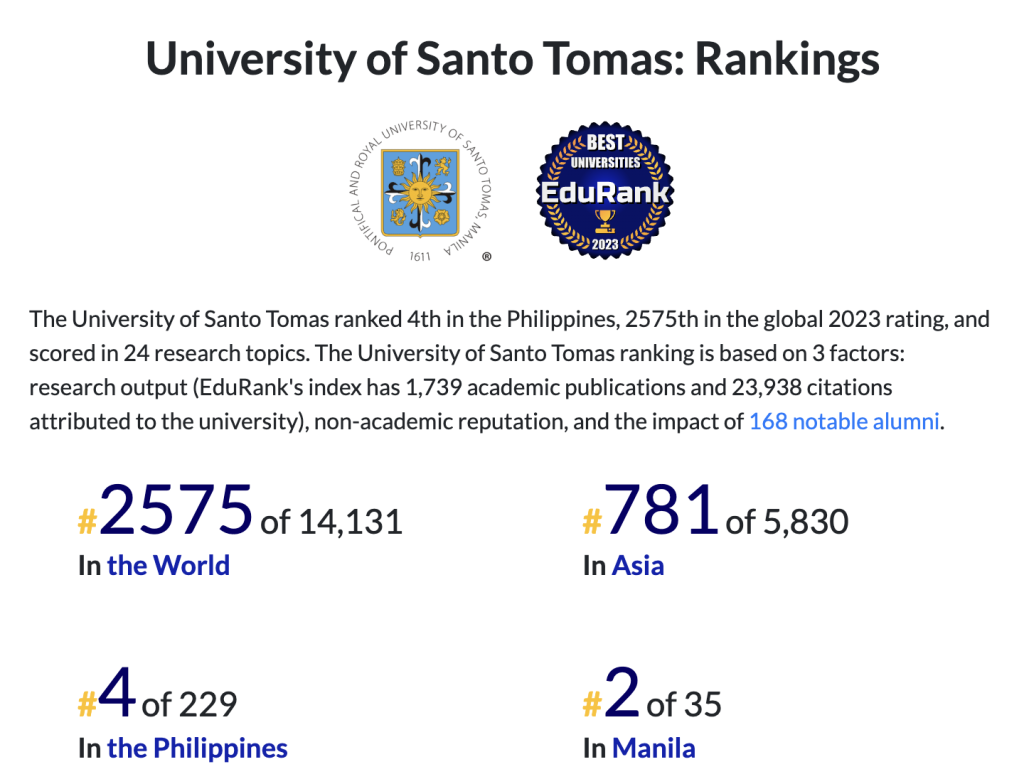 100 notable alumni including national heroes and leaders
EduRank also included in its list 100 notable alumni, headlined by National Hero Dr. Jose Rizal, and past Presidents Manuel L. Quezon, Sergio Osmeña, Sr., Jose P. Laurel, and Diosdado Macapagal. The roster also included business tycoon and philantrophist Tony Tan Caktiong, DBA (hons) (Chairman Emeritus and Founder of Jollbee Foods Corporation), the late Metrobank Founder George S.K. Ty, PhD (hons)., the late SGV Co. co-founder washington SyCip (Accounting), as well as National Artists Francisco Sionil Jose (Literature), Bienvenido Lumbera (Literature), Cirilo Bautista (Literature), and Francisco Mañosa (Architecture).
Sports stalwarts like Ernest John Obiena (Electronics Engineering student), Alyssa Valdez (Junior High School), Dylan Ababou, and Jervy Cruz also made the list, along with filmmakers Brillante Mendoza and Ronnie del Carmen. The list included prominent Filipinos dating all the way back to the 19th century who have made a name for themselves in various fields of endeavor.
EduRank, according to its website and ranking method, uses a database of 44,909,300 scientific publications and 1,237,541,960 citations across 246 research topics. Research performance accounts for 45 percent, while non-academic performance accounts for 45 percent. Alumni score comprises the remaining ten percent.
For more information: https://edurank.org/uni/university-of-santo-tomas/rankings/