The University of Santo Tomas Publishing House (USTPH), held a
collective launch of its 19 titles on May 9, 2018, at the Tanghalang Teresita
Quirino of the Benavides Bldg., UST. The titles included works of National Artist for Literature Cirilo F. Bautista, renowned writers and Palanca Award recipients Cristina Pantoja Hidalgo and Edgar Samar, among others.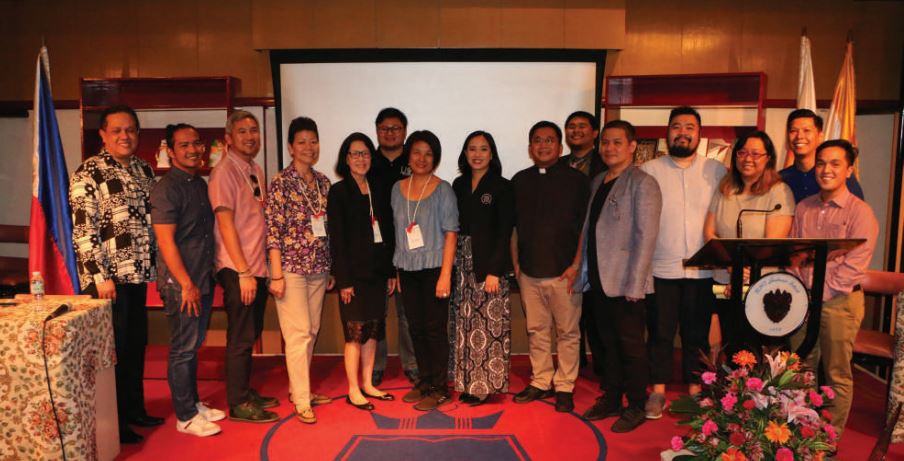 Publishing House Director Asst. Prof. Ma. Ailil B. Alvarez in her welcome remarks, said: "the book, in its physical bound form, possesses an irreplaceable appeal because it is more than just paper, it is the very embodiment of ideas that supposedly propel readers to become more improved versions of themselves by becoming keener cultural conduits."
Launched were poetry, literary and book adaptations of plays.
The poetry titles launched were: Auguries by Jaime An Lim; Hush Harbor
by Mookie Katigbak-Lacuesta; In Many Ways by National Artist for Literature Cirilo F. Bautista; Maskara't Pambata: Malatulambuhay by Edgar C. Samar; Paglusong by Radney Ranario; Sa Mga Pansamantala by Vijae Alquisola; and Sustaining the Archipelago, edited by Rina Garcia Chua.

The literary prose titles included Retrieving the Past / Recuperating the Voice (Criticism) by Soledad S. Reyes; Mercy, Love & Holiness (Theology) by Fr. Fausto Gomez, O.P.; The Thing with Feathers: My Book of Memories (Memoir) by Cristina Pantoja Hidalgo; Kissing Through a Handkerchief
and Other Travel Tales (Travel Essays) by Alice Sun-Cua; Breaking Ground: Cebuano Women's Writing (Translation/Anthology) by Hope Sabanpan-Yu; Coral Cove and Other Stories (Short Fiction) by Angelo R. Lacuesta; and The Newspaper Widow (Novel) by Cecilia Manguerra-Brainard.
The 2017 USTPH roster also included the book adaptations of the plays:
Anagnorisis by Em Mendez; Bienvenida de Soltera by Liza C. Magtoto; and Maxie By.