The UST Publishing House (USTPH) spotlighted its new releases and upcoming titles at its annual Christmas book sale, which took place both online through Lazada and Shopee, and on campus at the UST Bookstore from December 1 to 15, 2022.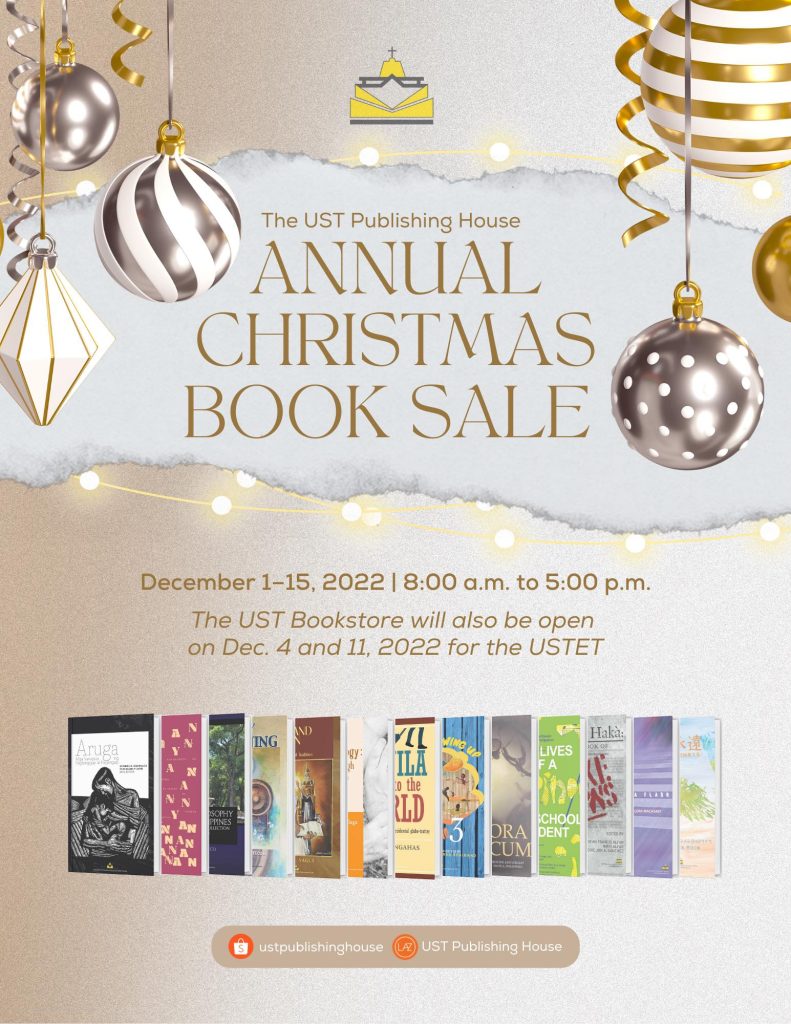 Its new releases became available at discounted prices, beginning with the latest creative nonfiction titles in its shelves: "Easy Listening," a collection of personal musings from veteran journalist Nestor Cuartero on culture, the arts, and the pleasures of the quotidian; and "From Manila to the World," which unfolds Paolo Mangahas' adventures in 10 different locations, through the author's thoughtful and authentic voice.
"Life in a Flash: Stories" edited by Rhona Lopa-Macasaet is an electrifying addition to the USTPH's fiction category. It is among the few books on the innovative genre of flash fiction in the country. Also joining the creative exploration of the genre is "Maikling Walang Hanggan" by Rommel Rodriguez, which has been translated for the first time in Japanese as「短き永遠」by Sawada Masanobu. This work is one of two USTPH titles accepted in the 2022 National Book Development Board (NBDB) Translation Subsidy Program (the other being "Ilustrado" by Miguel Syjuco, translated in Filipino by Chuckberry J. Pascual).
Coming soon in fiction is "Kathang Haka: The Big Book of Fake News," an anthology of short fiction edited by Dean Francis Alfar, Nikki Alfar, and Louie Jon A. Sanchez, which imaginatively responds to the perversions of truth in contemporary Philippine society through storytelling.
Latest in the nonfiction category is "Honora Medicum: 150 Years of the UST Faculty of Medicine and Surgery, the First School of Medicine in the Philippines," the UST FMS 150 commemorative book, which is meant to celebrate the "mother" of all medical schools in the country, to pay tribute to the 50,000 UST doctors and their extraordinary impact on society and honor the generations of doctor-teachers.
In the Theology and Philosophy category, the USTPH has released "Faith and Reason in the Catholic Intellectual Tradition" by Joel C. Sagut, which ruminates on the tensions between faith and reason, and their ultimate mutuality in Catholic thought. Renowned Filipino scholar Alfredo P. Co's new work, "Doing Philosophy in the Philippines: The Thomasian Collection (1951-1959) Volume II," was also recently released and launched alongside its first volume, which both collect scholarly articles on the condition of Filipino philosophy, and the trajectories of humanistic thought in the Catholic intellectual tradition. Joining them is "Faith and Psychology: A Walk-Through on the Filipino Basic Ecclesial Communities" by Milagros C. Arrevillaga, a close look into Philippine ecclesial communities and the psychology of communal living rooted in faith.
Esteemed fictionist Cecilia Manguerra Brainard is set to release the collection "Growing Up Filipino 3: New Stories for Young Adults," the third in a series of short fiction which tackles the unique yet universal experience of childhood and its reiterations in memory, craft, and Filipino culture.
Also coming soon on the bookstore's shelves are the following anthologies: "Bayan-Bayanan: Antolohiya ng mga Katha sa Lunan ng Gunita," edited by Rolando B. Tolentino and Rommel B. Rodriguez, which gathers short stories on home, land, and origin, and their inextricable link to memory and personhood; and two creative nonfiction titles, "Aruga: Mga Sanaysay ng Pagtanggap at Paglingap," co-edited by Rodriguez with Ferdinand Pisigan Jarin, a collection of personal essays that draw from the unique articulations of "care" in Filipino culture; and "The Lives of a Filipino/a High School Student: Anthology of Personal Essays on High School in the Philippines," (which Jarin co-edited with Rolando B. Tolentino and Joselito De Los Reyes) providing an intimate look into the Filipino high school experience, one that is marked by explorations and transformations on relationships and identity, contextualized within the country's tumultuous educational and social condition.
Finally, master musicologist and UST Research Center for Culture, Arts, and the Humanities (RCCAH) Director Maria Alexandra Chua will soon release "Julio Nakpil Collected Works Volume I: Piano, Vocal, and Chamber Music," a landmark work that compiles the extant music of renowned Filipino composer, Julio Nakpil, including some of his earliest musical pieces that were printed, published, and circulated in the late nineteenth-century Spanish colonial Manila.
These new and upcoming titles were available for the first time during the USTPH annual Christmas Book Sale. They are available at the UST Bookstore and its online bookstores at Shopee and Lazada.