The University of Santo Tomas, through the initiative of the Office of the Secretary-General, organized the "Kapihan at Kumustahan sa USTe" on December 10, 2018.
It was attended by the Manila Police District – Sampaloc Police Sation
(MPD-PS4), University Belt Area – Police Community Precinct,
and the chairpersons of the Barangays within the vicinity of the
University.

As an offshoot of this meeting, "Lakad Ko, Patrol Ko," a community walk along the surrounding area of the University campus in support of the maintenance of peace and order within the local community was held on December 13, 2018. With UST Gate 4 (main gate along Espaňa Blvd.) as the assembly point, participants included the UST Secretary-General Rev. Fr. Jesús M. Miranda, Jr., O.P., Security Office Detachment Commander Mr. Joseph Badinas, Office of Public Affairs Director Assoc. Prof. Giovanna V. Fontanilla, Ph.D., and Executive Assistant Mr. Emmanuel M. Batulan, Ph.D.,
PS4 Police Community Relation Officer Capt. Philipp Jose Ines, and University Belt Area – Police Community Precinct (UBA-PCP) Commander P/Insp. Edgardo C. Alombro. Together with them were the chairpersons of the ten Barangays within the immediate locale, who were accompanied by their respective teams, and policemen from PS4 and the UBA-PCP.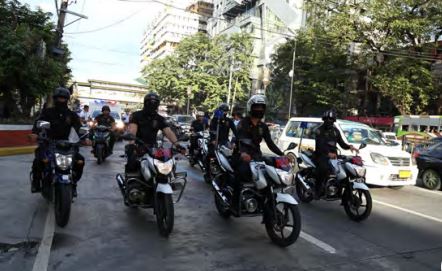 The participants walked along the streets within the periphery of the University that included Espaňa, Lacson, extending up to Santander to reach the Barangay Hall that that has jurisdiction over UST.