A total of 1,000 cacao and guyabano seedlings were planted during the Community Service Day organized by the University of Santo Tomas SIMBAHAYAN Community Development Office in partnership with the Office for Alumni Relations and the UST Human Resource Department to celebrate the 'Season of Creation' on September 29, 2018 at Barangay Sto. Niño, Tanay, Rizal.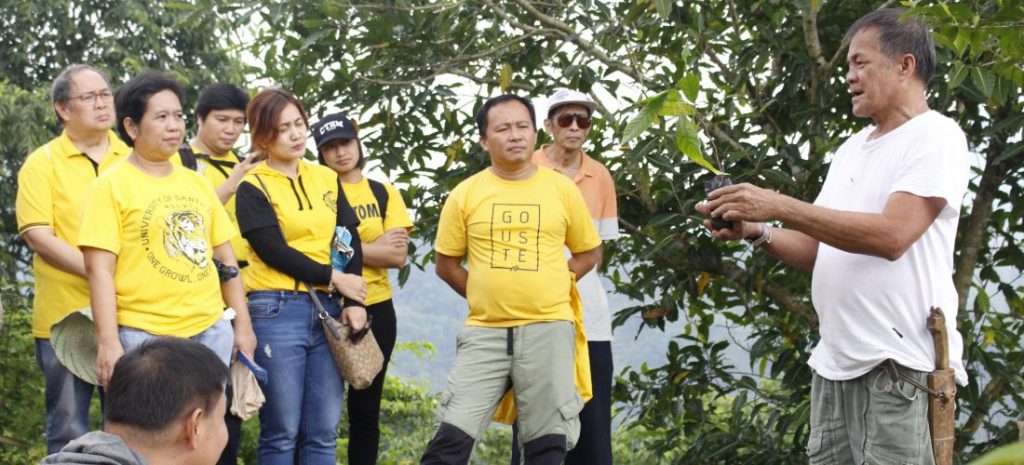 The event, Tree Planting and Growing Activity, is one of the annual Community Service Day activities of the UST SIMBAHAYAN in support of its environmental advocacies through cultivating more trees and preserving our natural ecosystem. Seventy-nine participants composed of faculty members, administrative and academic officials, support staff, alumni, and guests took part in this environmental advocacy activity.
The participants included Conservatory of Music Dean Assoc. Prof. Antonio P. Africa, Ph.D., and faculty members from the UST Junior High School, Senior High School, AMV-College of Accountancy, Faculty of Arts and Letters, College ofTourism and Hospitality Management, Institute of Information and Computing Sciences, College of Education, Institute of Religion, and Faculty of Engineering. Prior to the actual planting activity, a brief program was held that consisted of the welcome of the participants by the SIMBAHAYAN Assistant Director Asst. Prof. Froilan A. Alipao, a brief orientation on the activity by SIMBAHAYAN Training and Community Engagement Officer Asst. Prof. Evalyn B. Abiog, Ph.D., and a demonstration on how to properly plant seedlings by Mr. Christian J. Revil of NSTP, together with the representatives of the Department of Natural Resources (DENR).
The Season of Creation is celebrated annually from September 1 to October 4 by Christians around the world through activities that vary from prayer services to clean-up advocacy actions. September 1 is the Day of Prayer for Creation while October 4 is the feast day of St. Francis of Assisi, the patron saint of ecology in many traditions.