The University of Santo Tomas College of Commerce and Business Administration (UST CCBA), through its Marketing Management Department, inked a partnership agreement with the Philippine Savings Bank (PSB). The Memorandum of Understanding (MoU) was signed on February 13, 2020 at the PSB head office in Makati City.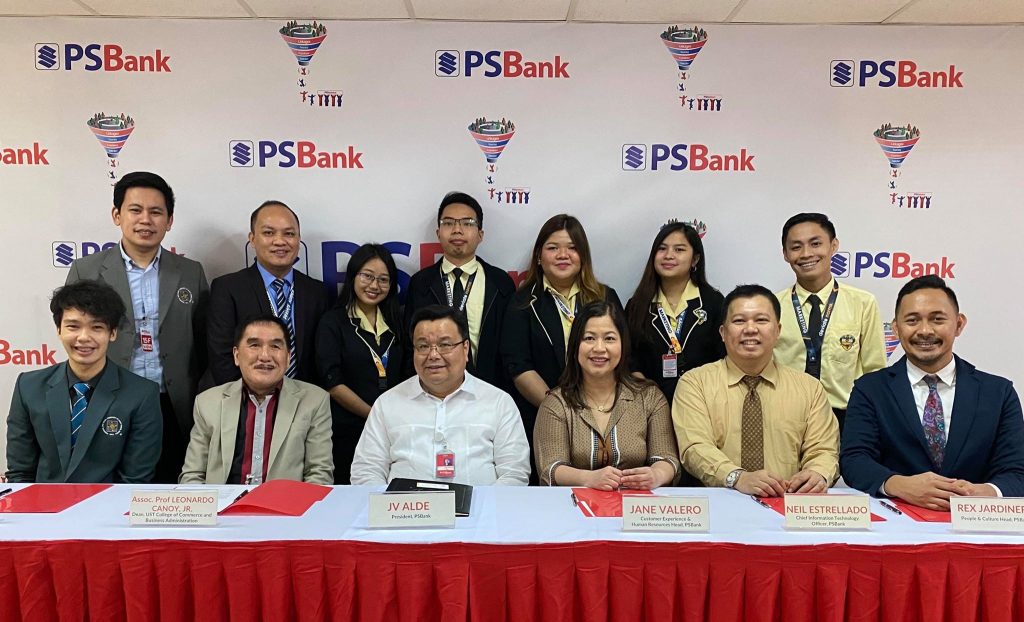 Representing the UST CCBA in the signing was Dean Leonardo M. Canoy, Jr., Ph.D., and serving as witnesses were CCBA Secretary Asst. Prof. Al Faithrich C. Navarrete, Ph.D., and Marketing Management Department Chair Mr. Francis Lawrence B. De Jesus, Ph.D., and Marketing Research faculty member Mr. Antonio E. Etrata.
PSB was represented by its President, Jose Vicente Alde, and attending as witnesses for PSB were First Vice President and Chief Customer Experience and Human Resources Officer Ms. Mary Jane Valero, Ph.D.; Senior Vice President and Chief Information Technology Officer Mr. Neil Estrellado and People and Culture Head Mr. Rex Jardinero. Established in 1959, PSB is a subsidiary of the Metropolitan Bank and Trust Company, and has been recognized as one of the strongest banks in the Philippines by the Asian Bank in its annual ranking for its 2016-2017 edition.
The agreement, which covers the courses Market Research, Product Development Management, and Customer Experience Management under the Marketing Management program, will integrate curricular tasks that will be recorded under students' performance assessments. Through such activities, students will be able to learn marketing principles with professional oversight as it brings the realities of the marketing industry inside the classroom and combines it with structured marketing science. The MoU is effective from A.Y. 2019-2020 until A.Y. 2024-2025.
According to Marketing Management Department Chair Dr. Francis Lawrence B. De Jesus, "[The MoU] is the first phase in establishing an in-campus marketing consultancy capable of catering to the market research needs of the industry's biggest players."
In a related development, PSB also commended five students under the Marketing Management program, namely, Menchie Hernandez, Joshua Isidro, Aaliyah Jimenez, Jerome Espina, Leanne Gono, for having the "Most Industry Relevant Market Research Outputs."