The University of Santo Tomas (UST) successfully passed its 3rd
Cycle, 2nd ISO 9001:2015 Repeat/ Recertification Audits conducted by TÜV
SÜD PSB Philippines, Inc. from April 25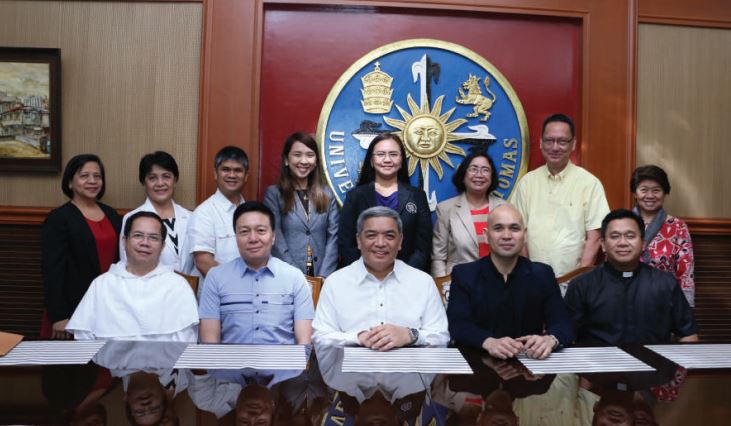 to 27, 2018. This was officially announced by the lead auditor, Engr. Roy Ramos and his co-auditor Mr. Xavier Lance Dy. It was announced that UST has satisfied the requirements of the ISO 9001:2015 standard without incurring any NonConformity (N) given a total of 20 audit findings with audit finding classifications such as 16 Minor Non-Conformities (MiN)
and four Opportunities for Improvement (I) during the Closing Meeting on the last day of audit on April 27, 2018.

Ramos also announced that the Certificate release recommended
submission of root cause analysis, correction, and corrective action plans for the 16 MiN audit findings. Ramos informed the concerned academic officials, administrators, and Quality Management Representatives
(QMRs) about the intended corrective actions for MiN to be submitted completely with responsible person/department, due date/ timeline of implementation as required by their standard template within five business
days prior to the decision on Certificate issue/ renewal/maintenance.


The challenge given by Ramos is for UST to continue to strengthen the monitoring of the quality objectives (Sub-clause 6.2) and the externally provided processes, products and services (Sub-clause 8.4) to be part of
the Management Review (Sub-clause 9.3)
The UST Top Management Meeting was attended by UST Rector Very Rev.
Fr. Herminio V. Dagohoy, O.P., ViceR ector Rev. Fr. Richard G. Ang, O.P., ViceRector for Religious Affairs Rev. Fr. Pablo T. Tiong, O.P., Vice-Rector for Finance Rev. Fr. Rolando M. Castro, O.P., ViceRector for Academic Affairs Prof. Cheryl R. Peralta, DrPH, Vice-Rector for Research and Innovation Prof. Maribel G. Nonato, Ph.D., Secretary-General Rev. Fr. Jesús M. Miranda, Jr., O.P., Human Resource Department Director Atty. Jacqueline O. Lopez-Kaw, LL.M., Student Affairs Director Assoc. Prof. Ma. Socorro S. Guan Hing,
DNM, Quality Management Office Director Assoc. Prof. Joehanna K. Ngo, P.I.E., MSIE, ASEAN Eng, Office for Planning and Development Engr. Charlie Marquez, P.I.E., Office of Public Affairs Director Assoc. Prof. Giovanna V. Fontanilla, Ph.D., A.P.R., and Quality Management Office Assistant
Director Engr. Nestor R. Ong, P.I.E.

The presence of all top management was a manifestation of the strong leadership and commitment (Sub-clause 5.1) of the University's top level management when it comes to the effectiveness of the University's Quality Management System (QMS) and in driving continual improvement
and innovation and developing leadership in their managers.

Fourteen academic units and 19 support units were audited. These include
the College of Education, Education High School, Junior High School, Senior
High School, College of Commerce and Business Administration, College of Fine Arts and Design, College of Tourism and Hospitality Management, Faculty of Engineering, College of Nursing, College of Science, Faculty of Arts and Letters, College of Accountancy, College of Rehabilitation Sciences, Graduate School, Library, Human Resource Department, Facilities and Management Office, Health Service, Counseling and Career Center, Office of Community Development, Office of Academic Affairs, Office of Student
Affairs, Office of the Registrar, Office for Admissions, Office for Alumni Relations, Research Cluster for Cultural, Educational and Social Issues, Research Cluster for Natural and Applied Sciences, Office of Faculty Evaluation and Development, Santo Tomas e-Service Providers, Office of Public Affairs, Purchasing Office, Educational Technology, and Quality Management Office. All other academic units and support units were on standby mode for any possible trailing.

The Quality Management Office (QMO), the office which assumes a leadership role in professionalizing the quality management operations of the University, presented evidence on the follow-up/actions taken on previous audit findings, Management Review, Quality Policy, Quality Objectives, Scope and Processes of QMS, Roles, Responsibilities and Authorities, Customer Focus, Communication, Actions to Risks and Opportunities, Planning and Control of Changes, Organizational Knowledge,
Monitoring, Measurement, Analysis and Evaluation, Control of Documented
Information/Records Management, and Internal Audit, Nonconformity and Corrective Action for which the audit took eight hours within the two days.

QMO Assistant Director Engr. Nestor R. Ong said that "the new ISO standard
provides not only a process-based approach but also a "risk-based approach." This is a systematic approach to risk management in identifying risks and opportunities that can impact the University's QMS which should plan actions to mitigate the risks and leverage opportunities."
Ong also added that "adopting a "risk-based approach" ensures greater
knowledge of risks and improves preparedness, increases the probability
of achieving objectives, and reduces the probability of negative results." He
stressed that "this is not a new practice for UST as the University makes prevention a matter of habit."

The UST QMS is ISO 9001 Certified since 2012. Presently, the certification is
under the transition from ISO 9001:2008 standard to ISO 9001:2015 standard. The scope of audit covers design, development and provision of secondary and higher education. UST's commitment to quality is evidenced in its achievement of obtaining ISO 9001:2015 certification.