The University of Santo Tomas (UST) officially opened the new academic year with the traditional Mass of the Holy Spirit being celebrated online. Prior Provincial of the Dominican Province of the Philippines and UST Vice Chancellor Very Rev. Fr. Napoleon B. Sipalay, Jr., O.P., presided over the Eucharistic Celebration, which was solely live streamed for the first time through the official Facebook page of UST on August 12, 2020.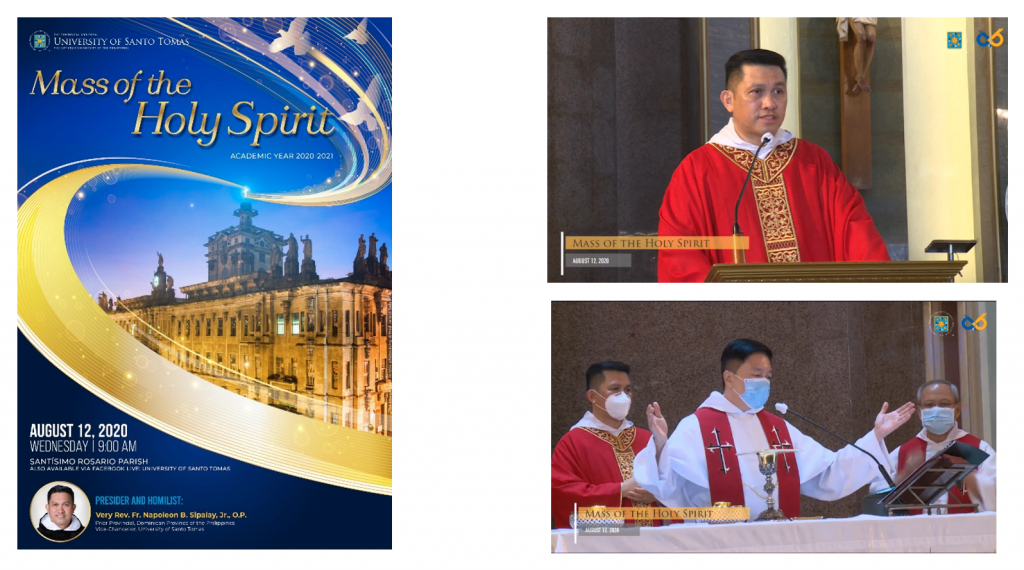 UST Rector Very Rev. Fr. Richard G. Ang, O.P., Vice Rector Rev. Fr. Isaias D. Tiongco, O.P., and Dominican Fathers concelebrated the Mass, complying with physical distancing protocols. The Thomasian community — including the usual attendees of the Mass such as administrative and academic officials, faculty members, support staff, and student leaders — joined the stream from their homes.
In his homily, Fr. Sipalay likened the experience of quarantine to the state of the Apostles prior to the appearance of the Risen Christ, saying "We were in locked doors, we experienced fears, anxieties, and we were waiting for the unfolding of the new normal. But just like the His disciples, we discovered that with the Risen Christ, with interdependence with one another, and with the coming of the Spirit as promised by Christ, we found new courage to navigate the new challenges we are facing."
"It is in working together that we are able to craft the way to move forward in this present academic year. We thank our administrators who took the lead to navigate us to the new normal… As we enter the new academic year, we ask the guidance of the Holy Spirit to all our stakeholders, executive authorities of the University and its academic and research units, University and faculty councils, University-wide and department-wide officials, faculty members and non-academic staff, especially our students," said Fr. Sipalay.
"I know this is not an easy journey," Fr. Sipalay acknowledged, adding that "What we need is to encourage and give words of hope to everyone: We can do this together… We join the community of UST to bring hope to all involved in the education of our students. May this synergy of working for the realization of the plan of God, in this academic setting, bring hope during this pandemic."
At the end of the Mass, the Vice Chancellor declared the Academic Year 2020 to 2021 officially open.
Due to the declaration of the modified enhanced community quarantine in Manila, the Installation of the Rector, which was set on the same day immediately after the Mass of the Holy Spirit, is rescheduled for a later date.