Sixteen Occupational Therapy (OT) students from the UST College of Rehabilitation Sciences completed the Summer Occupational Therapy Immersion (SOTI) hosted by the University of Southern California (USC). The virtual program was held from July 1 to 16, 2021, via Zoom.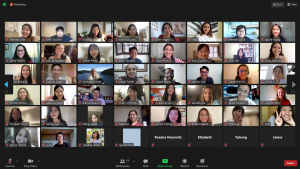 The SOTI program was a two-week online course by the USC Chan Division of Occupational Science and Occupational Therapy. It was headed by the Director of Global Initiatives and Associate Professor of Clinical Occupational Therapy Dr. Daniel Park, assisted by other volunteer SOTI facilitators.

The program was designed for participants around the globe who were interested to learn about occupational therapy practice, research, and education in the United States. It was open to undergraduate students, licensed therapists, or even non-occupational therapy students. Through lectures, panel discussions, and virtual tours of the different Occupational Therapy settings, the program allowed the participants to develop a more global perspective of occupation, health, and wellness. It also provided an opportunity to network with different students and practitioners within USC and from various countries and establish a global community for occupational therapists.

Through this program, fourth-year and fifth-year Occupational Therapy students gained insights on the emerging practices of OT, such as Ocean Therapy, Animal-assisted Therapy, Lifestyle Redesign, among others. They also learned OT's distinct value in healthcare, and the importance of integrating our culture to further develop the occupational practice in the Philippines to ensure that it meets the needs of the Filipino community.

Thomasian participants included: Cloe Danielle Alvarez, Kristine Leana Alunan, Gian Angel Arellano, Bianca Francine Buaron, Ma. Eula Natalia Bucu, Geujania Candelaria, Hannah Corinne Chua, Maria Sophia Denise Estrella, Yozelle Diane Gamba, Juan Lorenzo Gonzalez, Sophia Edelyn Ilagan, Mariska Lacson, Hyung Yeon Noh, Antonio Gabriel Pantilla, Daniella Antonio Rivera and Gwyn Marie Ruiz.