Fourth year BS Nutrition and Dietetics students from the Department of Nutrition and Dietetics, College of Education presented their study on emergency mobile apps at the 15th Tufts Research and Data Symposium for Food and Nutrition held last March 3-15.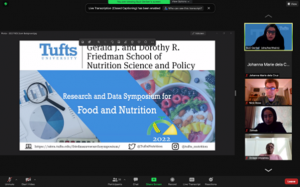 Organized by the Massachusetts-based Tufts University, Gerald J. and Dorothy R. Friedman School of Nutrition Science and Policy, the forum gathered more than 1,000 participants from over 55 countries to share research on nutrition, agriculture, food systems, and health; discuss real-world challenges and controversies; and, explore the role of data analytics in their fields.

Johanna Marie C. dela Cruz appeared on behalf of her teammates Danielle Laetitia S. Maniego, Frances Earl V. Venturina, Jhanelle Jayveeh B. Ricohermoso, and Ralph Ingrid V. Amisola to discuss their paper "Development and Pretesting of a Nutrition in Emergency Mobile Application, eSNAP: Emergency Surveillance and Nutrition Assessment para sa mga Pilipino."

Mr. Daniel G. Salunga, MS, who is a former officer of the Philippine Society of Nutritionist-Dietitians, Inc., served as their research adviser.