The University of Santo Tomas and Nicolaus Copernicus University/Uniwersytet Mikołaja Kopernika (NCU/UMK) in Toruń, Poland, will collaborate on restoring the rare first edition copy of Copernicus' book on heliocentrism housed in the UST Archives. Three professional restorers and conservators from NCU visited UST in Manila on February 22, 2023, to assess the original print to prepare for the continuing partnership in restoring the book, which is a Polish cultural treasure.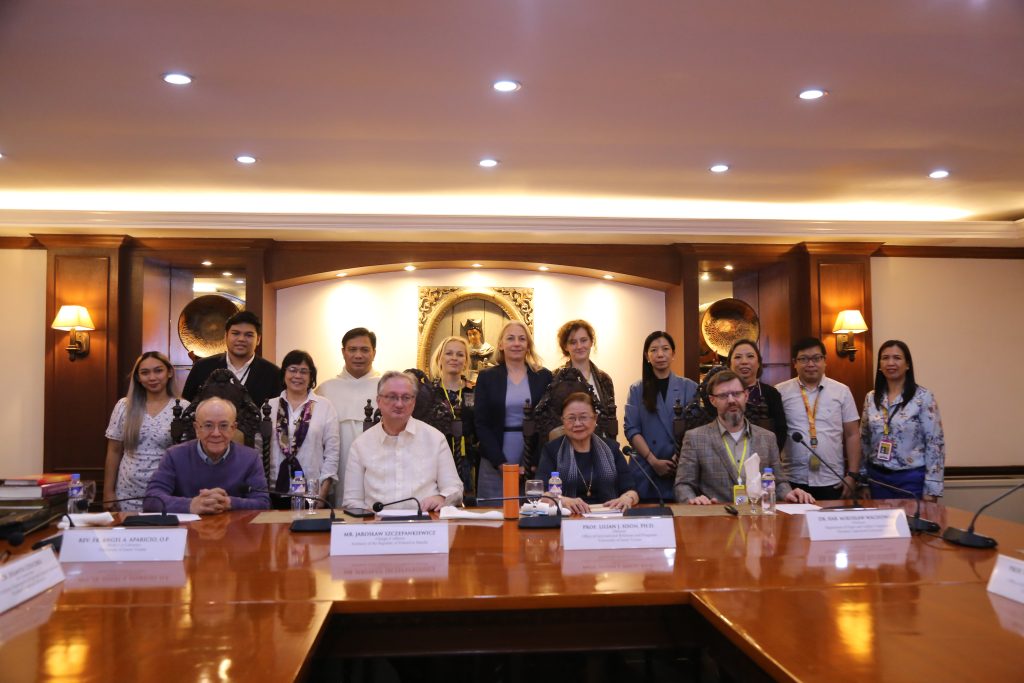 The visit and partnership commemorates the 550th birth anniversary of the astronomer Nicolaus Copernicus, which was on February 19, 2023.

The collaboration was borne out of the previous visit to UST of Mr. Jarosław Szczepankiewicz, Chargé d'affaires of the Embassy of Poland in Manila, on May 13, 2022, where he was first shown one of the remaining 11 original copies. The UST Miguel de Benavides Library, the UST Research Center for Natural and Applied Sciences (RCNAS), the UST Office of International Relations and Programs (OIRP), and the UST College of Science will work with NCU for this endeavor.

As part of this visit, NCU Professor Dr. hab. Mirosław Wachowiak from the Department of Conservation and Restoration of Modern and Contemporary Art, Art conservator Dr. Jolanta Czuczko, and researcher Ms. Karolina Komsta-Slawińska from the Department of Paper and Leather Conservation met with UST OIRP Director Prof. Lilian Sison, Ph.D., and Associate Director Prof. Karen Santiago, Ph.D., and Chief Librarian Ma. Cecilia D. Lobo.

Later that afternoon, a delegation from the Embassy of Poland in Manila, including Chargé d'affaires Mr. Jarosław Szczepankiewicz, Minister and Counselor, Ms. Anna Krzak-Danel, and Assistant to the Head of Mission Ms. Ella May Arevalo, graced a meeting with the UST Prefect of Libraries Rev. Fr. Ángel Aparicio, O.P., Acting Archivist Rev. Fr. Gaspar Sigaya, O.P., Head Book Restorer Ms. Ginalyn Santiago, Graduate School academic staff and RCNAS researcher Prof. Maria Bernardita Maronilla-Reyes, Ph.D., who is a chemist conservator of paintings, paper and stone-built heritage, and Executive Assistant to the Secretary-General Mr. Emmanuel Batulan, Ph.D. Following the meeting was an introduction by Wachowiak on the advanced book conservation and restoration processes employed by NCU.
Copernicus' historic work, "De revolutionibus orbium coelestium" (On the Revolutions of the Heavenly Spheres), was originally printed in 1543 in Nuremberg, Holy Roman Empire, and had for its central thesis heliocentrism, or the astronomical model that positioned the Sun at the center of the Universe, with Earth and the other planets orbiting around it in circular paths. The Copernican model, as it would later be named, displaced the geocentric model of Ptolemy that had prevailed for centuries, which had placed Earth at the center of the Universe.
The delegation from Nicolaus Copernicus University stayed in UST until March 1, 2023.