UST Minecraft map, the virtual reconstruction of the 21.5-hectare campus in its own Minecraft server, bagged the Project of the Year honor and a PhP10,000 cash prize in the first-ever AcadArena Awards held on February 14, 2021.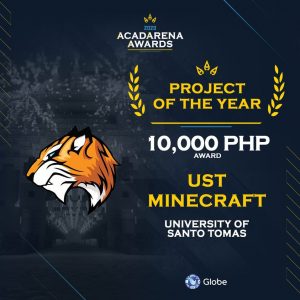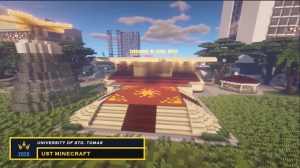 The award was given "to an ambitious project of its kind that not only showcased student talent and skill in the realm of e-sports and video games but also became a platform for community building." The UST Minecraft map certainly fits the bill as it would be recalled that it enabled thousands of freshmen to virtually join a traditional gathering of the Thomasian community called the Thomasian Welcome Walk in August 2020.
Since 2002, freshmen have symbolically entered the University by walking through the historic Arch of the Centuries at the start of each academic year to signify the beginning of their Thomasian life. It is a social gathering that would not have been possible due to the pandemic-necessitated distancing protocols had it not been for the UST Minecraft Team's initiative. By meticulously recreating each aspect of the Manila campus (and even the surrounding streets to ensure that the view is the same), the team's 80 student-members helped welcome the new Thomasians into the fold by letting them explore the iconic structures in a two-hour virtual campus tour.
                In an email interview, UST Minecraft Team Leader Charles Benedict Nobleza, a second-year student of the UST Institute of Information and Computing Sciences, said he was grateful for the Thomasian community's help in nominating them and supporting their project.
"The team is proud of the aspect of creativity done inside a video game. Video games may have a reputation for being violent for being violent or having a bad impact on most of its users. Still, our team has shown that it has another side composed of imagination and innovation. We are proud of the fruits of our labor, and we are happy that we have represented the University of Santo Tomas with UST Minecraft as The Project of The Year in the field of video games here in the Philippines," said Nobleza.
                After UST Minecraft's launch in August and the initial media attention it gained, the idea of a virtual Paskuhan, UST's Christmas Celebration, was in the early stages of preparation. However, with the devastation brought about by Typhoon Ulysses, the team quickly decided to reroute funds from hosting the server to giving relief goods instead. As of the time of publication, the server remains closed. But there is hope for re-opening the server.
Nobleza shared, "We are partnering with media organizations such as the Tiger Media Network to host our famous traditional events in the University. We are currently planning to host the Baccalaureate Mass for the graduates and welcome the next batch of freshman students with a (Minecraft) surprise!"