University of Santo Tomas SIMBAHAYAN Community Development Office Director and Faculty of Arts and Letters faculty member Assoc. Prof. Mark Anthony D. Abenir, DSD presented his paper on service-learning modalities and levels titled "Social Theories and Service Learning towards Building a Service-learning Modalities and Levels Framework" during the 3rd International Conference on Service Learning held from January 10 to 12, 2019 at the Hong Kong Polytechnic University.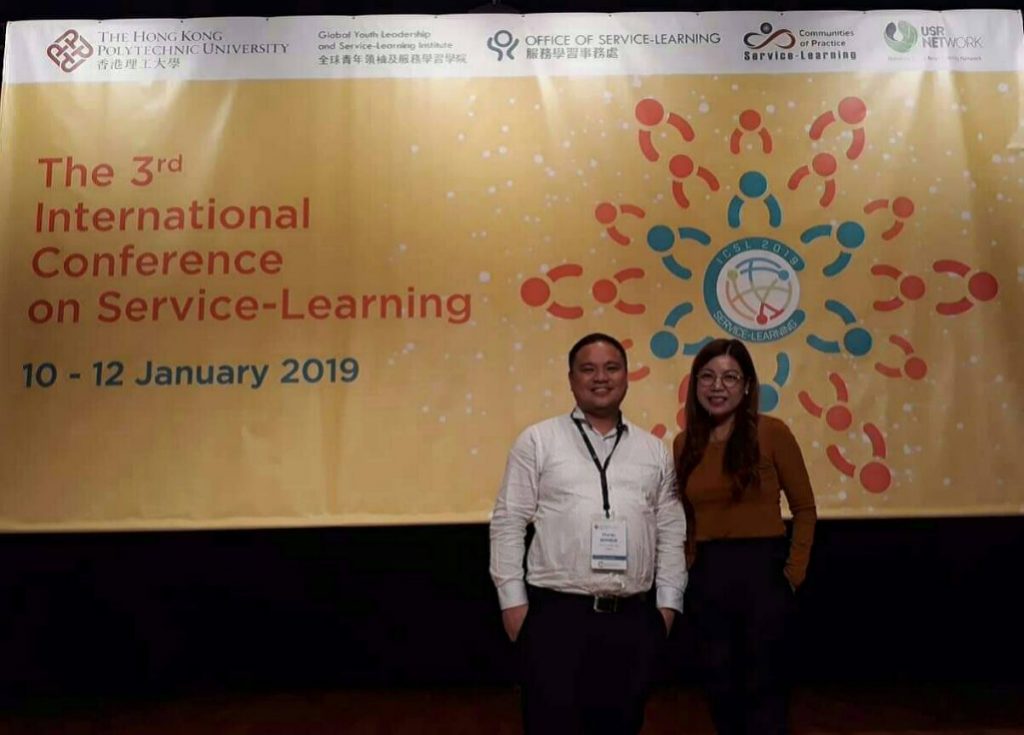 Abenir's paper linked service-learning "to its sociological theoretical foundations and its modalities/modes and levels of community engagement…and produced a coherent framework to guide service-learning educators and practitioners in identifying the type of service-learning being implemented." Identifying the service-learning type
leads to possible implications for students, faculty members, and community partners involved.
In a separate interview, Abenir explained that service-learning according to the National Service Learning Clearinghouse, is "a teaching and learning strategy that integrates meaningful community service with instruction and reflection to enrich the learning experience, teach civic responsibility, and strengthen communities."
Citing how service-learning helps the University in its community development efforts, Abenir said that, "Through service-learning, the community development efforts of the University become an integral part of academic scholarship where instruction and research are used to advance public service and civic engagement, and at the same
time, form socially responsible students and faculty members."
Abenir's paper put together structural functionalism, conflict and critical perspectives, and symbolic interactionism and found three kinds of service-learning: Charity-Based service-learning by Mitchell, Liberating service-learning by Stoecker, and Community-Based service-learning by Hammersley.
In the same conference, College of Rehabilitation Sciences faculty members Asst. Prof. Karen Sagun-Ongtangco and Mr. Charles Bermejo discussed disability-inclusive education when they presented their research papers during the 3rd International Conference on Service Learning held from January 10 to12, 2019 at the Hong Kong Polytechnic
University.
Ongtangco presented "Disability-Inclusive Education through Action Research: Experience of University Partnership with Save the Children," elaborating how the partnership with Save the Children, a Non-Government Organization, was successful through the action research studies conducted from 2015 up to the present.
In their second presentation, Ongtangco co-presented with Bermejo, a paper on the partnership of CRS with UST's mandatory Service Learning course, National Service Training Program. Titled "Disability Inclusive Disaster Risk Reduction and Management: Advocacy to Transformative Action in Service Learning," the paper tackled the research-based process of revising the Disaster Risk Reduction and Management module of NSTP.
In both presentations, experiential learning, academic study and reflections were highlighted in the process of providing service to the communities through participatory action researches. With diverse topics on service learning involving a wide array of disciplines, both faculty members from the Occupational Therapy Department took the opportunity to advocate for disability-inclusion in this international conference.
The conference was attended by 186 participants whose diverse backgrounds include academics and development practitioners. Eighty eight were from Hong Kong, 29 from Mainland China, and 24 were from other countries all over the world that included South East Asia, South Asia, Far East, Australia, Europe and North America.