The UST Miguel de Benavides Library enhanced its collections by
receiving a donation of personal collections of the late Erlinda A. Pichon, a
Thomasian from Caraga, Davao Oriental.

The donation contains books, postcards, photographs, paper ephemera and glass slides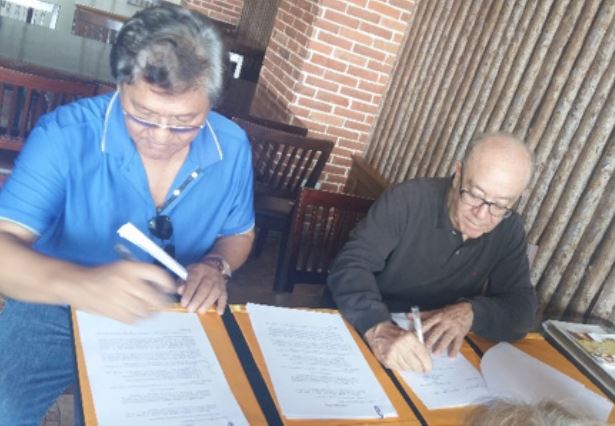 On September 29, 2017, the UST Library Administrators led by Prefect of
Libraries Rev. Fr. Angel Aparicio, O.P., together with Chief Librarian Estrella
Majuelo, and Assistant Chief Librarian Ma. Cecilia Lobo, flew to Davao for the signing of the Deed of Donation and turn-over of the said collections. The signing, which was held at Café Amoree, Davao City, was between the family of the donor Erlinda Pichon represented by Expedito Pichon and University of Santo Tomas represented by Fr. Aparicio on behalf of Rev. Fr. Herminio Dagohoy, O.P., Rector.
The document was signed in the presence of Majuelo, Lobo
and Ms. Leticia Pichon Militante. The negotiations for this endowment
started on July 2, 2017 when the Library received an email from Ms. Rosalinda Pichon Martin, sister and executor of the Last Will and Testament of Erlinda Pichon which stated a proposal for the personal donation of books and other materials.
After numerous exchange of emails and preparation of legal documents, the donation was eventually carried out. The collection will be housed
at the Antonio Vivencio del Rosario UST Heritage Library. The books
and journals will be labelled "The Ricardo Pichon and Eduarda Alvar
Pichon Family Collection" while the postcards, printed ephemera and
photograph albums produced during the period of 1898 to 1928 will be
labelled as "The Erlinda A. Pichon and Robert Biggert Collection," as
agreed by both parties.
Erlinda Pichon is a co-founder of a non-profit Amauan Multi-Arts
Workshop in New York City which operated from 1878 to 1998. In her
service of two decades as Amauan's unpaid director, she was honored
at the Malacañang Palace as an Outstanding Overseas Filipino.
During much of this time, she was a social worker and supervisor of
the New York City Human Resource Administration.