The University of Santo Tomas Miguel de Benavides Library and the Bangko
Sentral ng Pilipinas (Central Bank of the Philippines) signed a Memorandum of Understanding (MOU) on November 23, 2018 agreeing to a partnership for the Bank's Knowledge Resource Network (KRN).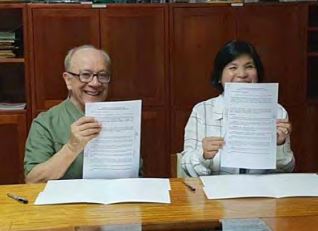 The Knowledge Resource Network (KRN) is an initiative at information and
knowledge sharing that aims to enhance the public's understanding of economic and financial concepts and issues, one of the Central Bank's key objectives. Conceived in partnership with libraries of the local government units, national agencies, and academic institutions all over the country,
BSP will set up Knowledge Resource Collections in the participating institutions that will house updated BSP publications such as books, reports, guides, manuals, primers and brochures, provide access to online publications and research assistance services to the public.
These information resources and services will be made available to the communities for free. The program involves the: a) setting up of a BSP Knowledge Resource Collection within the premises of each partner library
where BSP publications shall be displayed; b) training of partner librarians to maximize BSP information resources; and c) active participation of both BSP and partner libraries in information resource sharing.

Specifically, the BSP agree to: a) provide free updated BSP publications, signage and BSP logo for the BSP Resource Collections; b) conduct free training/ briefing sessions on online publications and research/statistical databases available on the BSP's website; c) provide reference and research service assistance to partner libraries on subjects related to economics and finance; and d) review and evaluate effectiveness of the program. In turn, partner libraries including the Miguel de Benavides Library, are expected to: a) provide the physical space, shelves, and computers needed for BSP
publications; b) ensure discoverability by cataloging all BSP publications
and make them available for library clients; c) coordinate with the BSP,
through the EFLC Main Office or EFLCs in regional offices and branches
(ROBs), regarding client requests for economic and financial information
materials; d) monitor the use of BSP materials and ensure prompt action
on research requests; and e) submit quarterly reports to the BSP. A
Reference Librarian will be designated as the main contact person for
BSP who will be responsible for coordinating requests for research
assistance.
At the signing ceremony, UST Prefect of Libraries Rev. Fr. Angel A.
Aparicio, O.P., represented the Miguel de Benavides Library in the signing
of the MOU, while Manager of the Economic and Financial Learning
Center of the Bangko Sentral ng Pilipinas (EFLC-BSP) Ms. Nelia R.
Balagapo represented the Central Bank.
Witnesses during the signing were: and Mr. Archie Galo, Librarian
II from BSP, together with Chief Librarian Ms. Ma. Cecilia Lobo and
Assistant Chief Librarian Ms. Diana Padilla. Following the signing, the
guests were given a tour of the Heritage Library