The primary function of the Philippine National Police (PNP) is to enforce the law, prevent and control crimes, maintain peace and order, and ensure public safety and internal security with the active support of the community.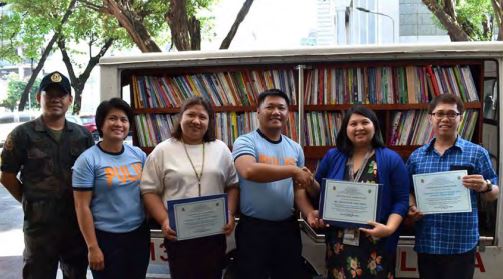 Apart from these duties and responsibilities, a group of officers from the
Police District Battalion has initiated an advocacy of helping the
out-of-school youth dubbed as "Ang Guro kong Pulis," a mobile
library project which aims to educate the said youth about personal
hygiene, good manners and right conduct within and around the
Roxas Boulevard area. The group went around Manila to look
for schools that could help by giving learning aids and other
instructional materials.
The UST Junior High School (UST JHS) responded to the call
through the UST JHS Student Council and the UST JHS Readers'
Club in partnership with the UST JHS Library and other student
organizations. The donation drive was launched on October 1, 2018.
With the help of various sectors, the UST JHS was able to
provide several boxes of textbooks, story books, and learning kits
that contain school supplies. The donations were forwarded to the
PNP before the 'Undas' break.

On November 6, 2018, the police officers visited and handed
certificates of appreciation to the UST Junior High School for
its outstanding contribution to the success of the mobile library
project. The certificate was received by Mrs. Ma. Victoria L. Torres,
Assistant Principal; Mr. Anthony C. Castro, School Secretary; and
Ms. Bernadine Ann V. Obial, JHS SIMBAHAYAN Coordinator.