The University of Santo Tomas recently hosted the Association of
Southeast and East Asian Catholic Colleges and Universities (ASEACCU)
Executive Leadership Essentials international conference held from
August 6 to 10, 2018 at the Buenaventura Garcia Paredes, O.P., Building.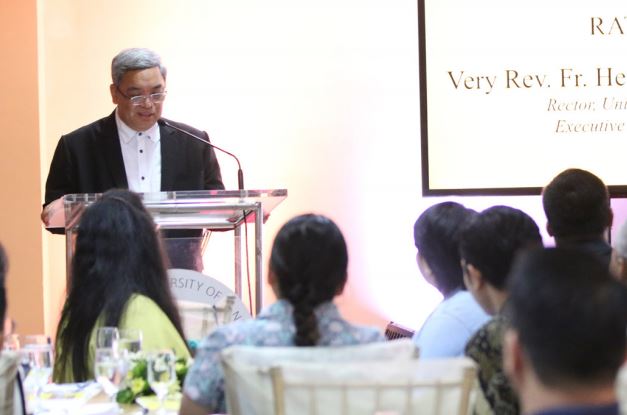 In partnership with the British Council Professional Development Centre, this was made possible through the Office of the Rector, which concurrently serves as the ASEACCU Secretariat as UST Rector Very Rev. Fr. Herminio V. Dagohoy. O.P., is presently its Executive Secretary.
Twenty six aspiring and newly appointed administrators and officials of
Catholic universities across Southeast and East Asia participated in this leadership training program titled "Executive Leadership Essentials" which sought to enhance their skills in engaging their employees, create a climate of trust among their teams, develop their ability to lead with credibility and confidence even in times of change, and strengthen their ability to connect with others.
Canadian master trainer Ms. Tara Mitchell, who has over 17 years of experience as an educator across Asia, Africa, and Europe, and former UST
Vice Rector for Religious Affairs Rev. Fr. Filemon I. dela Cruz, Jr., O.P., who is now assigned in Surabaya, Indonesia and who has over 25 years in the priesthood, were facilitators for the conference.
The five-day conference covered a wide range of topics, such as: Catholic leadership for Day 1; the role of leaders, creating trust, delivering through others, creating a cohesive team, motivating your team, and facilitating change for Days 2 and 3; and culture and leadership style, effective leadership across cultures, dealing with challenging situations for Day 4.
For the fifth and final day of the conference, a cultural tour which included visits to the National Museum and the San Agustin Church was facilitated by UST Archivist Prof. Regalado Trota José. Institutional visits to De La Salle University and Adamson University were also conducted.

Assisting the Office of the Rector in this conference were the Office of the Secretary-General, the Office of Public Affairs, Facilities Management Office, and the College of Tourism and Hospitality Management