The University of Santo Tomas hosted the 2018 Student Congress and
Grand Prix of the Public Relations Society of the Philippines. With the theme "Youth vs. Climate Change: The Ultimate PR Challenge," teams from different schools competed in presenting the best Digital Video and PR Plan for campaigns against climate change held at the UST Education Auditorium on January 20 and 21, 2018.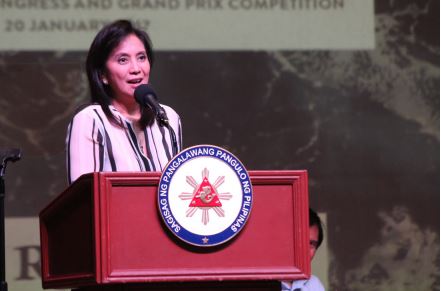 The keynote speech was delivered by the Vice President of the Philippines herself, Her Excellency Maria Leonor G. Robredo.

Readiness is key
VP Robredo highlighted the importance of not only awareness, but also
vigilance. Citing the concerning trends of extreme weather patterns over the past several years and the worsening storms and floods, she said that "[These incidents teach] us a very hard lesson: that times have changed. No one is safe anymore.
And we really need to be ready." "Climate change is real, and it is putting so many of our people at risk," VP Robredo continued. "And you know what's even worse? Climate change hits the poorest first, and hits the poorest the
hardest. Each time a calamity strikes, it is the poorest who pay for it, sometimes with their own lives," she grimly stressed.

Sharing an anecdote regarding her team's recent visit to Agutaya, Palawan,
a small island ten hours away from Coron by boat, VP Robredo discussed the harsh reality of weather disasters that is invisible to the urban public. She gave the example of Typhoon Yolanda (international name Haiyan).
"Help came quickly for areas like Tacloban and Leyte. Iyon 'yung
napapanood natin sa TV. (That's what we are able to watch on TV.) But there were several other places in the country that remained invisible in the eyes of many, pero grabe rin 'yung destruction from Yolanda, (but also sustained much destruction from Yolanda)."

The local community of Agutaya, who live far from the mainland and the more well-off towns, remained distraught from Typhoon Yolanda's wrath even years after the storm ravaged their island. The VP also noted that the only school in Agutaya's sole town was still damaged when they arrived,
even though Yolanda happened more than four years ago. Electricity was unavailable, and the local fishing community had a severe shortage of boats that affected their livelihoods negatively.
A call to action
After highlighting the importance of helping fellow Filipinos, VP Robredo
warned the students in the audience that, "We do not have to wait for another typhoon or calamity to move us into action. We can do something now to mitigate the impact of climate change. We do not have to let it hit
us close to home."

Commenting that generations Y and Z are in a unique position to lead the
charge against climate change, she also commended the efforts that are already underway. "Instead of sitting by on the sidelines, you're finding ways to discover your role in nation building."

"How I wish we, your elders, gave you a better world than this. It is the failure of my own generation to have acted in earnest or in kind. Kami po 'yung nagkulang sa inyo. (Our generation owes yours)," the VP also lamented.

"But as I said, all hope is not lost because we believe in you," she continued
in a positive note. "We believe you can do something about climate change now. In fact, you are already in a perfect position to do something about it. With technology at your doorstep, and with your exceptional creativity, you can come up with the most innovative solutions," VP Robredo highlighted.

"Personally, I witnessed that working with young people brings greater power in making the impossible possible," she shared with the crowd, adding that her staff is primarily composed of young and dynamic people, with an average age of 26 years old among the team that includes new graduates as young as 21 years old.

"There are countless creative ways to solve the crisis of climate change," she said, giving the example of producing eco bricks, reused plastic bottles stuffed with solid non-biological waste that are stronger than hollow blocks, which are commonly used by some of her team's partner communities
for construction.

Urging the youth to innovate, the VP stressed that, "No effort is too small; no
plan is too complicated to discuss. Every idea is precious if we all have open minds and open hearts."
VP Robredo ended her speech with a call to action. "As future communication professionals, you have power that can move our world. So make the most out of your stay [in school]. Learn as much as you can. Hone your skills and your abilities. Find innovative ways to move people to action.

Because our actions today will become the consequences we will deal with tomorrow."