The University of Santo Tomas held a three-day university-wide retreat for all administrators, faculty members, and members of the support staff last February 7-9, 2018, at the Quadricentennial Pavilion.
The university-wide retreat, now the fourth installment since the Quadricentennial Retreat in SMX in 2010, bore the theme "Ambag 2021: The Waze of Faith."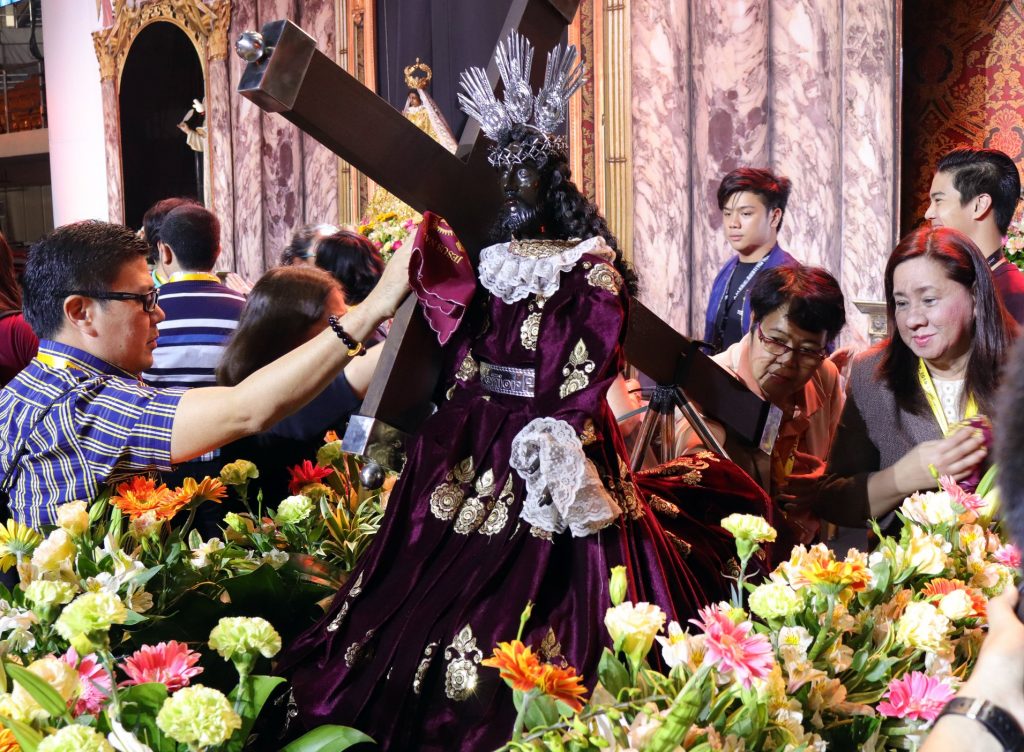 Child of the Earth or of God?
Professor Emeritus Rev. Fr. Enrico D. Gonzales, O.P., PhD, former Dean of the Faculty of Philosophy, reminded the retreat participants that we must discern between the daily concerns and the ultimate concerns. In differentiating the two, he said that we are both "Children of the Earth"—worried about what to eat, what to wear, what course to take, promotions, compensations—and "Children of God"—a child of love, which is self-giving. Both, Fr. Gonzales said, are necessary, "but it does not mean they are of equal importance. Being a child of God is more important."
Fr. Gonzales said that daily concerns are important, for they are essential to survival. However, he cautioned that "if we become too fixated with survival, the law will be that of the jungle. Only the fittest will reign." Fr. Gonzales warned retreat attendees that while life contains struggles, struggle must not be viewed too negatively. "Do not be afraid of struggle. It means you do not want to be an extremist."
"One-sidedness is the heresy of modern living," Fr. Gonzales said. He further reminded Thomasians that balance is essential, just as we try to achieve a balance between the daily and ultimate concerns. Instead of thinking that life is always a simple choice between two sides, Fr. Gonzales said that we must retain the faith as we struggle, for like the Nazareno during the procession, slow as the process may be, "we will still get there."
Stand up for the Cross
In his sharing, Archbishop Socrates B. Villegas, O.P., D.D. emphasized that Christians, especially Thomasians, must stand up for the Cross.
In preaching about goodness, Archbishop Villegas recognized that "when we see someone who is holy or good, we think that person is special. He is not! He is simply a normal Christian. The problem is we have become too abnormal." A normal Christian, Archbishop Villegas said, is one who follows Jesus and remains faithful to what He teaches.
Archbishop Villegas said decried, too, the normalization of violence, cursing, and hatred in society. The former CBCP President challenged Thomasinas to stand up for the Cross even in the face of hostility from others.
Confluence of the heart and mind
In his reflection, Novaliches Bishop Emeritus Teodoro Bacani, DD said that the Lord does not mind if one grows in knowledge and intelligence. However, Bishop Bacani underscored that what the Lord looks for first is love. "As St. John of the Cross said, 'In the evening of our lives, we shall be judged on love.'"
Bishop Bacani reminded Thomasians that the true dignity and honor of people are measured not on riches and properties, but on the purity of one's heart. Novaliches's bishop emeritus shared an encounter with a woman who had all the riches in the world but who said that the opulent house she lived in was filled with unhappiness, because of emptiness.
Falling in love, staying in love
In a witnessing panel discussion, two priests and two nuns shared their "love story" with God.
In his sharing, Fr. Filemon I. dela Cruz, Jr., O.P., former Vice-Rector for Religious Affairs, shared his ministry in Surabaya, Indonesia, where in his locality, there are only 3,500 Catholics. "The work here in UST is more complex, but there, even if the work is small, it's significant for them. There, they are very proud to be Catholics and point out to you where the other Catholics live."
Sr. Ma. Lorenza S. Sajul, O.P. shared how her ministry brought her to a situation in which she had to protect her students who were caught in a fraternity scuffle during the time she was a teacher of teenagers. "There are difficult moments, but they are worth it," said Sr. Lorenza.
Rev. Fr. Emmanuel E. del Rosario narrated how he personally sees to it that as parish priest, he always brings a stole ready, in case there is someone who is in need of sacraments, like confession.
Fr. del Rosario, fondly known as "Fr. Pong," shared how a drunkard passed by the parish church and incidentally chanced upon him as he was going to anoint a sick person. In that encounter, the drunkard said he passes by on his birthday and was intent on going to confession at a later date. Upon hearing this, Fr. Pong gave an impromptu confession to the man and it has since been his practice to go to market places and other public areas on Sundays to offer sacraments to those who say they cannot go to Church.
When prompted to reflect on his most difficult moments, Fr. Pong states that at times, as a priest who tries to teach what is right, he feels lonely, especially when few seem to listen. "We sometimes feel lonely, but when we do what is right, we will never be alone."
The courage to see the world
Using an anecdote of two frogs who lived inside a well, UST Rector Fr. Herminio V. Dagohoy, O.P., PhD emphasized courage by likening one frog that wished to see more than a minute-sized sun and a handful of stars. According to Fr. Dagohoy, the frog that jumped into the pail as water was being gathered from the well chose not to remain stuck in the same well for life and instead find out for itself what the world outside had in store. The frog, Fr. Dagohoy said, came back to the well years later to report to its old family that it did not die, as
Fr. Dagohoy said that courage stems from faith and love of God. "As Christians, we know that when we love God and when we receive God, God takes us one by one into a wide and emancipating space where there are new alternatives to our dead-ends, in addition to a boundless future."
Fr. Dagohoy called on Thomasians to not be disheartened by challenges and instead find inspiration in what lies ahead and what may seem unattainable at first.
Images of journey
The fourth University-wide retreat was not only a chance for the retreat participants to encounter one another, but also to venerate the iconic images of Philippine Catholic faith who represent journeys.
The retreat began with the Via Dolorosa, graced by the image of Mater Dolorosa and the image of the Santo Entierro. Likewise, the image of Our Lady of Peace and Good Voyage, otherwise known as Our Lady of Antipolo, was venerated by Thomasians.
"Ina," Our Lady of Peñafrancia and Patroness of the Bicol region, also graced the occasion, and Thomasians were given the chance to receive her blessing through the traditional Pagmamanto, in which clothes that once adorned the miraculous image were draped over the faithful one by one.
Close to the Thomasians' hearts was the image of the Black Nazarene, which was paraded around the Quadricentennial Pavilion by the Hijos de Nazareno of the Basilica of St. John the Baptist in Quiapo.
Rising from the ashes through God's grace
In the Mass that was offered for an increase in charity, His Excellency Edwin S. dela Peña, D.D., Bishop of Marawi, recounted his personal account of the Marawi siege that leveled the city in May 2017.
"We Christians represented a minority, a drop in the bucket. The ones who were really affected were the Muslims," Bishop dela Peña said of the siege that claimed at least a thousand lives at the hands of violent extremists belonging to the Maute group.
After Bishop dela Peña recounted how the captured Fr. Chito was only able to communicate with him once—on the day of the siege—he relayed how the small Catholic community there initiated a movement known as Duyog Marawi, a movement to "accompany" the Maranaos from their temporarily evacuation sites in Mindanao back home to Marawi once it is rebuilt. "We were able to gain passage through peace corridors with the help of the Moro Islamic Liberation Front, who assured us of safety as we gave our donations to the evacuees who were in other parts of Mindanao."
At the end of the Mass which Bishop dela Peña presided over, UST Rector Fr. Herminio V. Dagohoy, O.P., PhD and Vice-Rector for Religious Affairs Fr. Pablo T. Tiong, O.P. turned over the Thomasians' contribution to the rehabilitation efforts of Marawi City.
A Dominican family effort
The retreat was spearheaded by UST's Office of the Vice-Rector for Religious Affairs, under Rev. Fr. Pablo T. Tiong, O.P. Joining the OVRRA were the Santísimo Rosario Parish Church, Institute of Religion, Center for Campus Ministry, Social Media Bureau, and Santo Tomas e-Service Providers.