To address the pressing issue of natural resource conservation and environmental conditions, which have great ecological importance, UST Graduate School students under the Natural Sciences Cluster held its third Online Graduate Seminar Lecture presentation in Philippine Aquatic Biology targeting audiences whose interests are copepods and fish diseases.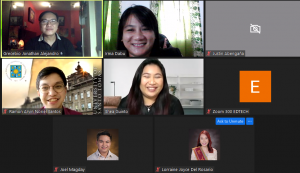 The online webinar, held on August 6, 2021, featured two speakers, Ms. Shea Kathleen P. Guinto, and Ms. Irma M. Dabu.
Ms. Shea Kathleen P. Guinto presented "Philippine Inland Water Diaptomid Phylogenetics: A First for Philippine Copepodology" while Ms. Irma M. Dabu, discussed "Physico-chemical parameters and risk factors analysis in the occurrence of TiLV in O. niloticus in Central Luzon."
            Guinto discussed the role of the Zooplankton, Ecology, Systematics, and Limnology laboratory in Philippine copepdology through the establishment of a standardized protocol for zooplankton sampling, processing, and analysis and the growing collection of Philippine inland water zooplankton specimens in the UST Zooplankton Reference Collection. She also discussed the future of Philippine inland water copepod studies, which includes molecular work.
Meanwhile, Dabu delivered a talk on the effect of the physical and chemical parameters like salinity, temperature, and dissolved oxygen of the water, which was analysed in relation to the occurrence of Tilapia Lake Virus in earthen ponds in Central Luzon.
The webinar had a great impact, especially for those Aquatic Biology majors who would like to pursue ecology-oriented careers or those who are conducting biological surveys and other environmental-related work which contribute to natural resource conservation, environmental conditions of the water or water quality control studies, and measure the abundance of aquatic organisms.
College of Science Dean Rey Donne Papa, Natural Sciences Program Leader and Graduate Seminar Coordinator of the UST Graduate School, in his opening remarks, inspired the audience to pursue scientific research